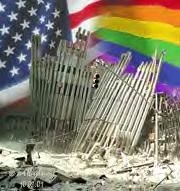 It was ten years ago today that our world changed. I'm sure like our parents, that can tell you exactly where they were the day President Kennedy was assassinated, each one of us can remember the exact moment we heard about the Twin Towers.
I was just waking up, still in bed. When my boyfriend at the time called me in a panic. I will never forget what he said. I answered the phone and heard him say, "Where are you!?"
"What do you mean where am I? Im still in bed at home."
He sounded relieved but only for a split second. His next words were, "Thank God. Stay where you are. Don't go anywhere. Don't go to school today! Stay home!"
I interrupted him, I didn't understand what he was going on about, "Why?! What are you talking about!?"
"Sasha …. We're at war. America has been attacked. Turn on your tv."
I was stunned. I was in disbelief. This was impossible. I turned on my television set and like the rest of the world I sat in horror as I watched people jump from the burning towers. It was a nightmare that America would not wake up from.
I wasn't sure what to write about this day. I wasn't even going to post anything because nothing seemed appropriate. But my wife has been working tirelessly on a project, for the last two years to honor the fallen heroes of 9/11 and to honor all those that come back from this war. Deceased and wounded alike. It's a hard project and it's full of sadness. But she does it because it needs to be done. She does it because heroes deserve to be honored.
But this particular post is not about the heroes and families that get the honor and respect they deserve. It's about the heroes that have to serve in silence of who they really are. That in spite of how brave they have served, were it to come out that they were gay. It would ruin their career, their reputation and that is all they would be remembered as. How sad is it, that being gay is somehow more important than being brave? That being outed can undo an entire career. Being gay can't un-save the lives that Soldier or Marine saved. But it can ruin a heroes life.
What about the families that received part of that settlement for their lost spouses in the towers? It occurred to me, what happened to the gay families? What happened to the gay and lesbian men and women that lost their loved one that horrible day? Were they invisible in the claim for compensation, because as usual, our love is never seen as equal or legal. Whereby we are not worthy of the same grief? Our grief isn't worth as much since we aren't straight?
I'll admit, I don't know if any gay spouses received part of the settlement that the widows and widowers received. But I wouldn't be surprised if they were the invisible victims in all of this.
9/11.
There is nothing I can say about that day that hasn't already been said, more eloquently then I could ever. I bow my head and heart in remembrance of that day. Not just today on the 10th anniversary, but every day my wife goes to work. Because she works to make sure something like that never happens again.
But I think it's important to realize that if we don't actively do whatever we can to change the laws, to be seen as equal in the eyes of the law, then we will always represent a segment of the population that will suffer in invisibility, at the loss of a loved one. Should that love one be one of our heroes.