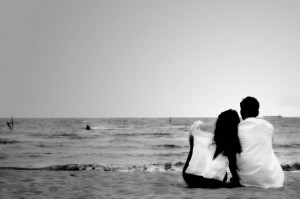 By Guest Writer, Kenda
I have no problem with kissing and telling, unlike Jamie, which is her name by the way.
After our encounter in the locker room, my mind was kind of a mess.  I got aroused that day in a way I never had with a guy, and that could only mean one thing.  I've been so consumed with the memory of that afternoon and wanting to see her again that I put my fear of what this might do to my life on hold, especially regarding my friends; I know the kinds of things they say about lesbians.  But the stupid way my friends talk about guys they have crushes on, well, now I get it.  I know how they feel. I didn't before.
I was so nervous about seeing Jamie again because she might not like me, and for good reason.  Also, I was a little embarrassed because she definitely got the upper hand, and I'm not used to that.  But I just had to get near her again.  I couldn't stop thinking about her.  So every time I had the chance, I'd kind of look so that she'd know I was looking at her; the way that works on guys.  But she would just look at me and then get back to whatever she was doing.  She did say in the locker room that the way to get what I want is to be nice.  So I started trying to chat her up.  And she wasn't rude to me, just kind of…stoic.  Though I did catch her looking at me a few times.  I just didn't know if that was a good thing or a bad thing.  I was starting to lose hope after about a week of trying to get her attention, to no avail.   I knew I couldn't blame her, but I still felt kind of obsessed and love sick.  Not that I was in love, of course, but I was developing a pretty painful crush.
Then one day after school, I was walking out to the parking lot and there she was on her motorcycle by my car.  She was in her leather jacket and baggy jeans, looking pretty damn hot.  When she saw me, she leaned back and watched me.  She didn't look away like she had been doing.  In fact, she looked at me rather intensely.  All of a sudden, I felt like a little girl and stumbled.  Way to go.  I'm usually the one who makes others nervous.  Not this time.  I thought she must be waiting for one of her friends and was surprised when she asked if I wanted to go to the park with her.  My first thought was, what if my friends see me leaving with her?  But I knew I couldn't not go with her.  And she looked so handsome sitting there.  She ran her hand through her hair waiting for me to answer and raised her eyebrows in the sort of James Dean way she has.  Yeah, I couldn't say no.
Climbing onto the back of her bike was heaven because I had an excuse to put my arms around her.  I was in shorts and the feeling of her rough jeans against my legs and her stiff leather jacket against my body, not to mention the rumble of the bike…I would say the ride was over too quickly except that what came next was even better.
We got a couple of burgers and some fries and sat down to eat on the beach.  Her hair is short with bangs, which she usually slicks back, but the ocean breeze was blowing it across her forehead and slightly into her eyes.  She'd occasionally rake it back like a guy.  I did it for her a couple of times and she would just watch me when I did.  Same thing when I'd touch her arm.  It made me want to reach inside her jacket and run my hands over her loose, white t-shirt.  I just wanted to touch her any way I could.
I was pretty sure I knew where this was going, and it made me nervous.  Nervous because I wasn't sure how she felt about me.  Maybe she just wanted to get the popular girl so she could brag to her friends.  Maybe she was playing a game and would get me started and then leave me hanging again.  But there was something kind of sweet about her.  She didn't seem mean at all and she wasn't guarded, like she was at school.  And she made me laugh.
We must have been there a couple of hours because people were starting to leave.  That's when we walked up to the park.  She reached over and took hold of my hand.  It was so exciting, yet so natural and casual.  It was like I finally got to touch her and keep my hand there and she was touching me back.  She took me up into a little log cabin fort in the playground.  It was quiet because all the kids and moms had gone home.
Turning to face me, she took my hands in hers and asked if I knew why we were there and whether I'd ever been with a woman.  So there it was.  This was going to happen.  My heart started beating faster.  When they say, "and all the world melted away," that's what it seemed like.  Nothing else existed.  Just Jamie and me, in that moment, in that tiny little fort.  Even though I hadn't been sure of her motives earlier, there was something kind and gentle about her that belied her tough exterior, and as she looked into my eyes and gently caressed the side of my face with that hand of hers, all my fears faded away.   And then she leaned in and kissed me.  The softest, most wonderful kiss ever.
It seemed that kiss could have gone on forever with me melting into her, until she pulled back, looked into my eyes and, still caressing my face, said, "Jasmine.  Would you undress for me?"  Again, that James Dean raising of the eyebrows while she waited for me.
Oh God, the way she just seems to like to look at me…I started to tremble a little so that I had to fidget with the first button on my sweater to undo it.  She took a step back, still close, but enough so that she could watch.  Her eyes were still on mine as I finished unbuttoning, letting the sweater slide off my shoulders and onto the floor.  I could see her breath quicken as she gazed at my chest, and seeing that I excited her made me bolder.  I looked down to undo the front clasp of my bra and slowly took it off, then moved my hands back up to run them over the soft skin of my tits, lifting them up and letting them fall.  When I looked back up at her, her eyes had darkened and were still on my boobs, and she slowly raised her eyes to mine.
"Now take off your shorts," she said, her voice low and husky.  I did what she asked, my clit beginning to throb.  I undid my shorts and slid them down over my hips, waiting for her next request.  I wanted to hear her sexy voice.
"That's good.  Now take off your panties."  The way she unflinchingly stared at me was driving me wild.
I bit my lip, hooked my thumbs in each side, and slowly pulled them down until they were all the way off.  I raised back up and there I stood, completely naked.  Jamie fully dressed, still in her leather jacket to her shoes, with her thumbs hooked through her front belt loops, tilted her head as she gazed intently at my pussy.  I shifted as it seemed that she should rush in and touch me, but she didn't.  Her eyes were fixed on my naked body and she was clearly enjoying it.  The waiting was agony.  The feeling of exposure, delicious.  Then she stepped in, put one hand around my waist and the other on my pussy and pulled up, putting a steady pressure on it with the heel of her palm.  Her mouth found mine with an urgent kiss, biting and sucking as I let out a moan.
"I want you to know what you've missing, Jasmine," she said as she moved her mouth to my neck.  I could feel her breath hot and heavy there as she moved her thigh in between my legs.  She put both her hands on my hips and we began to move together.   "Yes, ride my leg, baby, that's right.  Grind that sexy pussy of yours.  Make it feel good."
Just seeing her in all her handsomeness holding onto me, leaning back to watch me grind on her was enough to do me in.
She reached up and wrapped a hand in my hair, pulling my head slightly back, and in my ear, asked, "Did any guy ever make you feel this way?"
I moved my head as far as I could to breath in deeply the scent of her hair, "Ump um".
Pulling my head further back, she moved her mouth down to my tits.  Her lips grazed a nipple as she asked, "and what is it you're feeling right now?"
A tortured moan escaped me and she lightly bit me.  "Tell me what you're feeling."
The pressure of her leg against me, her breath on my tits, that same unswayable steadiness I had noticed in her early on, that she was leading; capably leading, made me want to surrender to her.
"I want you.  Somehow I want you, I need you, in me," I said between quick breaths.
"That's right," she said, "I can do that. I can definitely do that."  She grinned and moved her hand down to my cunt, watching my eyes.  Her fingers found their way between my lips and slid easily around my hole.  I sighed as she slid a finger in, partly satisfying my longing, but at the same time, making it more intense.  As she pulled it out again and slid it around, exploring me, I could feel how slick and wet I was.
"Oh God, touch my clit," I sighed.
"You want me on your clit?" she asked as she thrust two fingers into me, watching my reaction.
I gasped sharply and began to moan as she crooked her fingers and began moving them around inside me.  I buried my face in her neck and suggested, "With your thumb.  You can rub my clit with your thumb."
She chuckled softly, brought her head back and looked at me.  Now working her fingers in and out, she said, "Yes, I can use my thumb, or…"  she grinned and moved down my body until she was kneeling before me.  Watching me, she pulled her fingers slowly out and spread my lips apart.  But instead of putting her mouth on me right away, she closed her eyes and inhaled deeply.  Then again as she put her nose against me.  I put my hand on her head, longing for the feel of her mouth on me.  Savoring my scent once more, she began to slide her tongue between my lips.  I cried out as she buried her face there, tasting, exploring, pleasing me.  The excitement of seeing her kneeling before me still fully clothed, head between my legs, and the feeling of her tongue building a rhythm as it flicked across my clit, was too much.  As I became more excited, she thrust her two fingers back inside me, this time slamming my pussy hard.  In and out, in and out, I could feel that sweet feeling welling up in my clit as I cried out her name, grabbing her head with both hands and pulling her into me as I came hard against her face.
After we got dressed, or after I got dressed, we walked back to the beach.  She sat behind me with her arms around me and told me not to worry about pleasing her; that I did in fact please her very much.  She made love to me once more, right there with the moon shinning down on us and the sound of the surf pounding softly in the background, the roughness of our need a sharp contrast.  As we lay there afterward looking up at the sky, I felt a certain peaceful happiness.  My life at school seemed a million miles away, and the worries over what my friends would think seemed insignificant; they could never give me the kind of gift that Jamie gave me that day.