I didn't mean to leave you guys with a cliffhanger on the last blog. Since really, there wasn't much of a cliff …. it was more like a nice rolling plateau for the rest of the day. After that magical massage, we took a leisurely drive, further down the coast. Stopping to eat lunch by a beautiful little lagoon and contributed to the obesity of some of the chubbiest squirrels I've ever seen.
It felt so good to be out of the house, out of the city and really, basically out of my rut. It felt like the clouds that had been hanging over me for so long, were getting burned away by the sun on this beautiful, perfect day.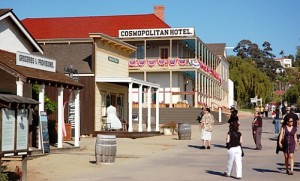 After our little lunch with some of nature's cuties, Remi drove us down to Old Town San Diego. I happen to love old towns, especially if they look like they could be ghost towns straight out of a movie. And Old Town San Diego fit that bill to a tee! I had never been and just loved walking around the museums and quirky little shops. But best of all, the overall attitude of everyone else there that day was super friendly and very chill. People smiled and said "Excuse me." There weren't any attitudes that we're so used to in our area. Everyone seemed to be there for the same reasons we were, to have a good time and you could really feel it in the air.
After that my little day tour of San Diego continued with a quick look at the Gaslamp Quarter where frustrated tourists in rental cars scared the hell out of us a few too many times. So we hightailed it to the gay area of town, Hillcrest.
We weren't exactly sure how to get there but just followed the ever-increasing amounts of rainbow flags until we were once again, securely in the bosom of an uber-gay area. Ahhhh home away from home

We really just spent the rest of the day holding hands, window shopping and making out behind lamp posts at red lights. It felt like when we first started dating. I loved it. And I loved my wife for doing this for me. She had taken it on herself to plan an entire day trip for us, just to make me feel better. And it worked!!!
We would have stayed the night at the haunted hotel we found in Old Town, but we have fur babies that were waiting for our return. So after one of the best days I've had in recent memory, we headed back to LA.
Before anyone asks, yes, I do know how lucky I am and I thank God for her everyday.