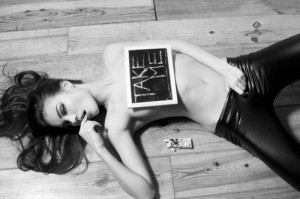 There really is something to be said about taking lemons and making lemonade. Or in this case, taking a crashed site and revamping it to take it to the next level.
I am so excited and happy that it's finally done!!! What do you all think about it?
Last time I changed CCL's layout, there was a slight learning curve for some readers. Some downright disliked it, but over time came to love it. This time around, I'm hoping everyone loves it from the get go. But just to help a little with the learning curve. Please follow me as I take you on a little tour …..
Please allow your beautiful eyes to wonder upwards, right above the Card Carrying Lesbian banner. There you will see the new home of the different categories and pages. No, we're not missing any …. they're all still there. But now they're tucked inside a scroll down menu. Hover over  "Blogs" to see all your favorite categories magically appear. Guest writers, bipolar drama, artists …. it's all still there. Just in a more streamlined way.

And this new layout is designed to automatically readjust to fit any screen you're on! So if you're on your smartphone, your iPad, or any other newfangled contraption that you kids have these days, reading CCL on the go will be a dream come true. Because no one likes to please lesbians more then I do.

You will also notice my other pages, the "About", "Contact" and "Advertise" pages. Along with a new one: "Store". Yep, CCL has officially opened it's doors!!! I don't have everything listed on there yet. And I do still have my Etsy store, but now my friends and readers can buy DIRECTLY from me. You will also notice that right below the slider on the home page, there are a few cool jewelry pieces. If you click any of those, you'll be taken to the store page. (Again, the store front isn't totally finished but I couldn't wait any longer to get back to writing!)
Now back to the homepage. You'll see the famous slider that shows a few of the newest or most popular posts. Followed by a sneak peak into the store. Think of it as window shopping. And then we have the meat and potatoes of it all. Or as the vegetarian in me prefers to say, the tofu and asparagus of it all …. the BLOG!!!!! It's a little different, but I think it looks more streamlined, a little more organized.
And to your right, you'll see the sidebar. Complete with recent comments, links for the guest writers, a blogroll (that I'm about to clean out so if you want on it, email me) and whatever goodies I can think of to put over there. Including some ad space for the attention whore in you.

And by attention whore, I do mean savvy business owner/blogger/artist/writer. Anyone that needs some more traffic, that ad space is waiting for you.
So to be honest, I haven't had much chance to get use to this new design either. It's brand spanking new to me as well! But I wanted to tell you that if any of you bloggers out there, need a really great web designer, you should all hit up Nick at Think Four Graphic Design. He's cool people and my current hero for redesigning CCL and putting up with my onslaught of emails I sent out over the last few days while stuck in helpless femme mode.
Well, I guess I better get to work on some new blogs!!!! Come right back!!! I have good things to share.