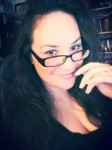 OK so my last attempt at a blog was wah-wah … and it read as way harsher then I meant. Which in itself is what I was talking about … the not caring what others think … but there I go again … caring. So fuck it. I'm not going to try to define anything. What will be will be.
But Stacy's comment made me think and she's right … this blog has helped people and I want to keep that part going.
Alex, you're right also … I want to start writing books.
Rexie, I know you always have my back.
Guest writers? I've totally changed my mind. The only thing is I'm going to screen better from now on! But seriously, all the other writers have been amazing and a huge contribution to the site. I shouldn't have let the few times I got burned let it color the rest. It was a learning curve and I'm still learning.
In the mean time, have you heard of Abraham-Hicks? There are a ton of cool videos on YouTube but I wanted to share this one, it might speak to someone out there.