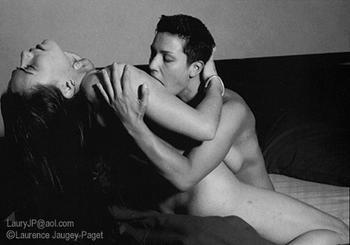 By guest blogger, Raye
Many butches are not used to someone wanting them.  It throws them off.  You femmes don't realize how rare a butch-loving femme really is.  All you see is that you can't find any butches and you notice all the femmes in competition with you for one.  Oddly enough this is what we see around us… our competition.
Ladies you have adoration from every direction.  You are the picture of femininity that society loves.  Even straight women admit that they can appreciate a beautiful woman and sometimes explore their curiosity born out of sheer desire for a beautiful woman. No one can tell you are different until you open your mouth.  Butches are used to being treated like second class versions of men.  They are sneered at by men, gawked at by straight women who clutch their purses when they walk by in a public restroom. They are very used to being unwanted by society as a whole.  So, some of us may not know how to react when a woman shows interest.  Some butches are very guarded and fragile.  Don't forget that at the core they are part woman too.  They have a sensitive side that men don't usually have unless they are gay. They feel self-conscious just like you. They wonder if they look ok.  They wonder if their hair is just right.  They wonder if you will be ok with the flaws of their bodies.  Sound familiar?
Being gentle and kind like the beautiful women you are is so attractive and does a lot to tear down those guarded walls.  Butches have a hard shell from having to fight off scornful stares and protect their hearts from hatred on all sides.  We learn not to notice the way people look at us because if we did, our hearts would be perpetually broken.  Unfortunately this means that sometimes we don't notice the stares of loving adoration. Sometimes, some of us just can't help being shocked at someone wanting us. It is not your fault but you can do a lot to heal those wounds and reach the soft inner layers hiding beneath the surface. I cannot tell you how I have been floored by beautiful women who realized that I was just as nervous as them and made moves to make me feel more comfortable.
I slept with one woman whose body was perfection and I felt like hiding under the covers around her. I could not understand what she saw in me physically.  But she saw that I was scared to death and turned the lamp off to make me feel more at ease and then began telling me how sexy I was.  It was weird because I could not get comfortable enough to be my aggressive self.  I assumed she misread this as me being unsure of myself in the bedroom.  Unfortunately she never gave me enough time to open up and be the real me because the next morning she had clearly moved on.  I felt like I had been terrible in bed.  It killed my self esteem for over a year. I was so traumatized that I would not let a woman get close to me or even come close to making love for a year.  Some years later she told me that I had read her reaction wrong and that she was actually terrified about how she had felt about me so quickly after that night so she pushed me away.  But I still didn't really believe her. Actually it was not until I met Sarah who wanted me, saw me as the dirty boi that I am (and encouraged it) that I got my mojo back.  Sarah saved me in a sense.  Without her I probably would still be avoiding sleeping with women.  But the point is that I was more fragile than I or anyone else knew.  I had numerous past lovers that became obsessed with me after sleeping with me but none of that mattered because that one girl was able to rip my self esteem to shreds with her reaction to one encounter.  We are not as invincible as you think.  It keeps us guarded.
I know that not all butches have these issues.  But I know many of them do.  The ones who are unable to express what it is that troubles them or makes them nervous around women are the ones I am talking about. They are the sweet ones you want to reciprocate and you wonder why they can't.  I am not talking about the ones who have no problems engaging in your flirtation. Many butches are confident and have no problem hitting on women and making conquests of as many women as they can bed down. Others are just confident in themselves and very strong personalities.  I am an opinionated person with a very noticeable presence which normally would eclipse my butch friends when we would go out.  I can't help it.  It is who I am. I personally have no problem talking to women because I grew up as a preacher's kid and had to converse with strangers all the time. I had been conditioned to sing and play music in front of crowds since the age of three and this has been beneficial in my social interaction. But I still have moments of nervousness and awkward behavior when I like a girl.  Ask Sarah how I reacted to her at first.
All that being said, I have not lost my ability to care for strangers or be open to new friends. But I think our community as a whole has lost its collective soul.  We are obsessed with appearance and fashion and have forgotten to look for a heart connection.  Maybe it is because all we do is hang out in gay bars because it is all the community we have in most places.  But alcohol in my experience is never a catalyst for a lasting relationship.  Where is the love man?  We have to start coming out in public places outside of the bars and letting each other know we are there.  And lesbians could learn to be kinder and gracious when they are being hit on by someone they may not be interested in.  Being sarcastic and hateful to someone might make you think you are amusing to your friends but really it makes you look ugly and mean. I wish the latest generation of young adults could grasp this concept. Showing kindness and love is way more attractive.
And butches, bois, soft butches, sporty dykes and others, listen up.  It is not attractive to (the right kind) of femme women, to be that cad in the bar drinking too much, hosting the beer pong game, flirting with all the ladies and talking too loud.  You look obnoxious and we all know you are just trying to prove how cool and popular you are.  It's attention whore douchebaggery. So stop it. You might attract the skanky barflies but a real woman will see right through you and be completely turned off. Real women do not care that other women want you. Real women want to know that you will be faithful and treat them like you love them. And you wonder why your relationships are devoid of substance. Put down the blunt and read a book. Literacy is an aphrodisiac to femmes. Trust me on this one.
I have some advice for the shy, guarded butches too: give her a chance. Let her tear down your walls. She is on your side. If a femme is trying her damndest to get your attention, pay attention and trust that her intentions are good.  You can feel a person's spirit if you open up and really listen to her. Trust your intuition. Guard your heart but don't be so guarded that you leave the femme hanging on a ledge.  She is taking a big risk opening up to you too.  Practice expressing yourself by talking to yourself alone in your room the way you would explain yourself to a femme.  It sounds crazy but it helps you get used to getting your words out there.  It also helps when you can't go to sleep at night because you are thinking about a girl you like. Some women really love us.  They are hard to find but if you don't pay attention when they are trying to tell you, you might miss your chance.  Don't lose out because you are afraid to be hurt. Love is worth the risk.  Be kind to each other.
And… party on dudes. Wild Stallions RULE!
Sorry I had to…