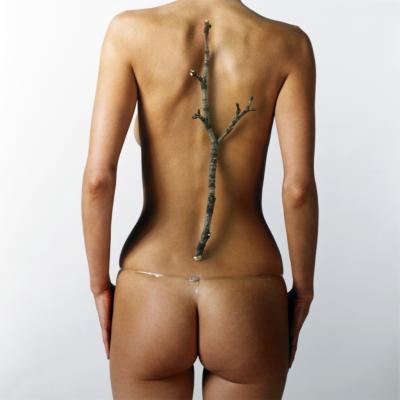 About 9 years ago or so, I injured my back during a krav maga class. It was basically what happens when a 250 pound Russian ass hole doesn't think girls should be fight training and takes it upon himself to "teach me a lesson." But at the time, adrenaline and pure fury allowed me to keep fighting and not realize how bad my back really was.
About a month later I got my pay back when I had the chance to kick him in the nuts so hard, he threw up, while doubled over on the mat. I've always believed that revenge was a dish, best served cold. That experience only proved my point. He and everyone there that day knew full well why he was lying on the floor and my teacher that day decided to look the other way, considering this guy had injured several other women in this time span.
Unfortunately my years of classical ballet training had taught me to "fight through the pain" … literally. I ignored my body's signals that something was seriously wrong with my back and continued to push my body. It all came to a painful head one day when I woke up in the most agonizing pain of my life. I couldn't get out bed, I couldn't sit up or even roll over. It took me more then an hour to get myself out of bed, by pulling myself off the end of the bed and falling painfully to the floor, after which I had to crawl to the bathroom. I was shaking and crying from the pain and thought that I would pass out from it before I could get anyone to help me.
Luckily, I found an amazing chiropractor and with his help and excruciating rehabilitation, I was able to avoid surgery. However, my back has never been the same. I have back and neck pain every single day of my life. But it's usually manageable. Especially with yoga and exercise. But every now and again, and usually at the worst possible moments, my back will decide to go out on me. And when I say "out" I mean WAY out. To the point that I can barely walk for days on end.
My chiropractor was the first one to tell me that back and neck pain are often brought on or exacerbated by emotional stress. That was hard to believe at first, that such extreme physical pain was directly related to emotional pain. But over the years I have noticed a direct relation between stressful or upsetting times in my life and my back going out.
Last Friday my back decided to throw a wrench in my perfect week. I woke up one day and couldn't get out of bed without almost screaming. By the time I had made it to the living room to have coffee with Remi, I was in tears and shaking like a leaf.
Great! Just when I feel like I'm getting things under control: back at my fight gym, changing my schedule around, getting up early, Remi's new job, all this good stuff! And my back feels like it's breaking! Can't a girl get a break?
Well yes, yes she can actually! If she has a wife like Remi!

After 5 days laid up in pain Remi decided to bring home a little present to help lift my spirits.
Drum roll puh-puhleeze …….
I'm sure you've all figured it out already …. Yes, Remi bought my iPad for me a little early! No, I'm not done with my thesis yet, but I am keeping to the deal and will be done by April 30th. And now thanks to this amazing technology I am able to keep to that timeline in spite of being stuck in bed because writing on this thing is a breeze! Yep, I'm writing this blog from my iPad 2!!!!!! Jealous? You should be

J/k of course, but I am in love with it.
I hoped that this would allow me to write more often and whenever and wherever the mood struck. So far it has surpassed my expectations as a magical writing machine. I've written more since getting it last night, then I have all week.
When Remi brought it home, I'll admit I felt about 5 seconds of hesitation. I had already blogged about not getting it early for "integrity" and "pride" reasons. But that hesitation was quickly replaced with unabashed joy and excitement!
Remi quickly put my feelings of guilt aside by telling me that she bought it early because she believed in me and my ability to finish my thesis on time. She also bought it because she knew I was stuck in bad in awkward positions trying to avoid the searing pain in my lower back. So I guess I can't feel guilty about receiving a present, right?? Eeeeek! Why do I feel like I let you guys down?
Well …. In the mean time, I have my new iPad to try get over the feelings of guilt. Who says it doesn't pay to lay on your back all day?