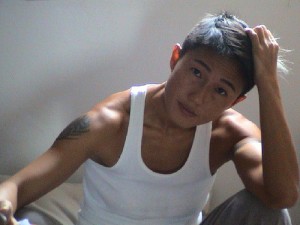 OK so I came across this article when I was searching for a hot pic of a butchie to post one day. I read it and wasn't sure if I should feel insulted on behalf of my butch brethren or just amused that this was actually on wikiHow.
I'm not a butch so maybe this article is not as bad as I thought, please correct me if I'm out of line. But the entire tone of the article seemed to be talking down to the reader. I read it to Remi and asked her what her thoughts on it were and her response was, "I thought it was kinda lame. Like this is how  to be more masculine. This is how you should be. Like we don't get enough random people telling us how we should be."
I wasn't even going to post this because the last thing I feel good about doing is putting down another writer's work. But when I tried to find out who the author was it was pretty unclear. Apparently this is an article that has been edited or modified by several people but I was unable to find the original author. Anyways I decided to post this after LB_Boi's latest blog about yet another article telling butches what they should wear.
Here is the article in it's entirety along with a link to the original post.

(This page was last modified 20:26, 13 April 2010 by wikiHow user PSE1nf0_. Based on work by Teresa, Chris Hadley and Random, wikiHow user(s) Benwa, Amazon111, D rae, R0cker1992, Happyvgirl and PSE1nf0_ and Anonymous.)

Have you ever felt that you were a Butch Lesbian? Butches can be very attractive, handy and even sweet. The challenge is balancing the style so it looks good.

Ask yourself a few questions. Why do you want to be butch? Do you feel attractive and natural in this look? or is this just a cheap scheme to get women's attention? Can you handle people knowing about your sexuality? How will others react?

Develop more masculine mannerisms. Walk with more confidence and stride. Don't slouch or sit with your legs together. Watch the way men move and move like them. Try to only copy more of the popular guys, when observing them think, is this guy cool? Does he seem attractive to girls? If yes, he is a good example since you do not want to move awkwardly.

Get some masculine clothing. You can buy men's clothing, or, buy women's clothing that is boyish. Choose colors that you like in sizes that fit your body nicely. Some good things to get:
•    A few polo shirts
•    T shirts with cool designs on them. Try not to go with big logos or dorky souvenir shirts.
•    Loose-fitting jeans. Not too baggy, not too loose. You can go with men's jeans or women's boy-cut jeans since those are made for a female frame.
•    Dress clothes. Pants suits, shirts with ties and nice shoes are great for special occasions. Do learn to tie a tie , as clip ons are tacky.
•    Accessories. Get a few belts and a nice watch (go for a neutral color). A chain to wear around your neck can look handsome.
•    Shoes. You really only need 3 pairs: comfy shoes, dress shoes and boots.
•    Binder. Some butches dislike having large breasts and may wish to bind them down.
•    Boxers – No butch should wear girly undies. Go for comfort. Plaid, solid or simple patterns are best. For the most part, you will be the only one that sees them; keep in mind that your girlfriend will see them so they need to look good.
•    Messenger bag or backpack. Purses are to be avoided.

1.    Skip the make up. Concealer for blemishes and pimples is fine. Eyeliner is okay in small amounts.
2.    Get a short hair cut. Look at both women and men for inspiration. To find a look that will look good on you, ask the hair dresser what will match your face shape.
3.    ?Be active. Try to get into a sport or just work out. Be proud of your body and its strengths. Looking attractive and gaining muscle can also be a benefit.
4.    Act the part. Be confident and masculine. Be chivalrous and gentleman-like. Try your best to stay calm and in control of your emotions in public. Confidence is key, so be sure to take charge and be assertive. Most of all, be yourself.

Tips
•    Don't hate men or straight people. This makes you sink to the level of homophobes. In fact, don't hate anyone at all.
•    Men's clothes fit women differently. Make sure they feel right, if they do not support your body type your body will suffer. This goes double for footwear.
•    Do be ready for people to possibly pick on you.
•    If someone calls you "sir", don't get upset. If you mind, politely correct them with what you'd like to be called.
•    Be nice. "Angry lesbians" do not attract friends, get good jobs or get girlfriends. Friendly lesbians, on the other hand, do all of these things very well.
•    Be your charming self. Don't be fake or try to pretend. People should like you for you.
•    If you are trying to be gentleman-like, do be courteous to men within reason.

Warnings
•    Some areas might be less accepting of those in the LGBT community. Use your head if people try to start a fight or insult you.
•    Try to avoid conflicts with less accepting people if you can.
•    Only use binders made for the intent of binding down breasts. Ace bandages and other things can cause injury. Do not use one if you are still going through puberty as this can cause stress cracks in your ribcage and stop your breathing.
•    If you wear binders wear only one. Two binders can cause stress cracks to your ribs.
•    Do not wear binders while exercising if you can help it.
•    Be mindful of public restrooms, if you look like a guy this can startle women and in some areas make you a target for harassment. (You can use the family bathroom, don't use the mens room you can get arrested)

Things You'll Need
•    Some money for shopping
Minor disclaimer on my part: I realize that this article might be helpful to a total newbie. And the stuff about not hating anyone is always good advice. I know that when I was newly reborn as an Out Lesbian, I searched the internet and bookstores for any and every piece of information that might help inform me on the new life I was now embracing. And in my search I filled my bookshelf with a lot of really crappy reading material. But at the time, I didn't have ANY other reference point, so anything was better then nothing. So hopefully this article is helpful to some new little baby dyke out there in BFE America who's looking for a jump off point. I don't know? What do you think?