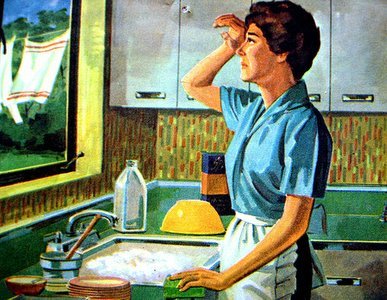 Recently, Remi and I were just chillin' at the house. Neither one of us had anything to talk about. I hadn't been anywhere in weeks. Her schedule consisted of work, home, work, home, repeat.
She sat there and said, "Well?"
"Well what?" I replied. A little miffed that the responsibility of conversation topics seemed to land on my side time and again when there was nothing to talk about.
"I just feel like we don't have anything to say to each other anymore. We've become that couple that has nothing to talk about at the end of the day" she said.
My heart dropped and I went into a little bit of a panic mode. My mother had always warned me about this day. Growing up she would always tell me stories of women that were stay at home wives or worse yet, worked to put their "husbands" through school. Only to be abandoned by the same "husband" once their career was on the fast track and their wives' sacrifices were too easily forgotten.
My mother's words rang out in my head, drowning out anything else going on at the time.
"It always happens. A wife quits college to work and put her husband through college, medical school, law school. Whatever. Thinking that when it's her turn, he'll happily return the favor. But it never works out like that. She ends up being a housewife after he finishes school. Then a few years down the line, he comes home and tells her he wants a divorce because they have nothing in common anymore. But he has everything in common with that female doctor he works with every day. Women always run a risk staying home. If they don't keep themselves vibrant, interesting individuals, their husbands will get bored and leave. It's just the way it is."
I had thought that this would never be me. Because I was never going to have a "husband." Nor do I fit into the other molds that well …. or so I thought. I have several advanced degrees, hopefully that would help keep me interesting. Since I read a lot and love art, I thought I would always have something, at least a least a little bit interesting. Right?
I had never intended to be a stay at home wife. Especially since I don't have or want children. Yet I find myself, embodying a lot of the 1950's stereotype of a housewife. Something I abhorred growing up. Yet despite my childhood opinions, I find it suits me in a lot of ways. I love being home. I love taking care of my wife. She loves working and being the provider. It just happened that we fell into these roles. It happened organically, without much premeditation on either of our parts. But we like it.
Or at least we did, until we found ourselves staring at the television set every evening, with nothing to say to each other other then, "Where's the remote?"
In the exact same moment that she told me, "We have nothing to talk about anymore" I immediately made up my mind that I would not be one of those sad women my mother always warned me about. The sad housewife, who's spouse left her for an exciting career woman.
I had to come up with a plan and anyone who knows me, knows I love me some planning.

It wasn't hard to figure out some things had to change. But I wasn't going to feel bad for the last year either. Because feelings of guilt never get you anywhere except more depressed. I actually told myself that it was perfectly natural that we "nested" and hibernated a bit after getting married. But it had been almost a year and it was time to get back out there.
How to spice up our life together was pretty easy to figure out.
More sex. I mean really, more sex always a good thing. I recently read an article that having more sex made you as happy as if you earned $100,000 more a year!!! I might not be working outside the home, but I could make her feel like I was bringing in a $100,000 a year!? Oh yea baby. Done and done.
We had to start going out again. Living where we do, we're less then 30 minutes from West Hollywood. A town full of gorgeous clubs that make Dinah Shore seem redundant if you're from here. There was no excuse for not taking advantage of the vibrant LGBT scene in our own backyard.
When I thought about the reasons why we stopped going out, it wasn't hard to put my finger on it. It seemed boring after we were married. I mean, it felt like clubs were for singles or couples still dating. We're happily married, rarely drink and lost our reason to be part of the "scene."
But this little wake up call made me realize that going out to "da club" could be vital to a long term relationship. Giving us a reason to dress up, be social and just get out there. A place for "date night" other then our regular restaurants and our couch.
So my first task was to find something for us to do. I already had the perfect thing in mind, a Drag King & Burlesque show, slightly out of town! I had never been to a Drag King show and was dying to go. Plus the fact that it wasn't at any of our usual haunts, made it doubly exciting. But that particular little adventure is for another post because this one is getting too long as it is.
I also had one other major way to spice up our conversations ….. no it wasn't a threesome. It was by having Remi join my fight gym so that we could be training partners.
We started last week and let me just say, it's already doing wonders for our relationship.

We now have tons to talk about! Classes, techniques, new people to get to know and we get to see old friends. Like Lana! Lana trains there too, so it's basically the best idea I've ever had.

This was a wake up call for me. To get my ass in gear to become and then to stay a woman that Remi would be happy to come home to, every single day for the rest of our lives. I don't care if that's not "feminist" enough of me, it's true. I find motivation in wanting to be wanted by her. Is that so wrong?