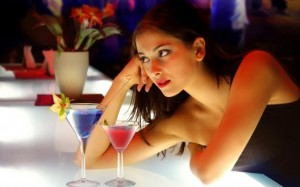 By Guest Writer, Effi Mai
Being single can be great. You can go out whenever you want without having to 'check' with someone first. You can kiss a gorgeous stranger without having to check if it's ok with said person too. You only clean up your own mess, you can eat what you want, go where you want and pretty much do your own thing all the time. And it's a fabulous lifestyle.
Unless that is all, every one of your friends is in a couple and you find yourself on the outside of the group being a very spare wheel.
Going out in the clubs single
Now this should be your heaven. Your place to be a dancing-I-could-pull-anyone queen. Where you can go up to the bar and show your cleavage to get free drinks. You can do that I caught-you-looking-at-me type smile at girls you fancy and go up to her to literally charm the pants off her. And make a fool of yourself if you want to – who cares! You're wild, fun and free. And yet when you're with a group of coupled friends it changes everything.
First, you have to persuade couples to go out. With my friends, it's like they go into couple hibernation and want to stay home wearing onesies and eating jacket potatoes while watching CSI. It doesn't occur to them that there are actually three dimensional single people needing their attention. You have to give them a bit of a kick to let their hair out of that scrunchy and put on a bra.
Once out, I find myself standing in between my friends as we walk to a club so they're not all holding hands and I stand out more than a person wearing a wedding dress for a first date. Once inside, your friends will just have to find a place to sit down, what being so exhausted from being away from the curled-up-position-on-the-sofa for so long. The need somewhere for chatting, snogging and having eye foreplay. You will of course head to the bar at this point and if you're like me will order a few very strong shots.
Once suitable filled with tequila I then pulled my short dress down and tried to perch myself sexily on the arm rest of some dodgy sofa-type-thing. The friends of course were deep in conversation about cats, home-made bead making or something equally as dull and my helpful comments of 'please get some sort of life,' and 'What the hell happened to you lot?' weren't really pleasing them.
Being bored and ignored like this while out can often result in grabbing onto the nearest lesbian just so you have something to do. This is why I blame my friends as to why I go home with inappropriate women. Then I will go round to their house the next day and shout at them. But what is a girl to do apart from do a girl?
On average it will take two hours and fourteen minutes before the fake yawns start and another three minutes after that for the friends to see that I am indeed chatting to a nice-if-indeed-rather-ugly woman and will think it is acceptable to leave, go home and get all snugly with each other. Again, hence the shouting at them thing the next day.
I will have a bit of a rant about this but then next time I want to go out I will be at theirs again chucking the potato on the floor and chucking nice clothes at them. Then the whole sorry saga will start again. All I have to hope is that I will someday grab onto a nice lesbian when I've been left and she will be the one to be my other half in the couples group. That, or I'll marry a bottle of tequila.