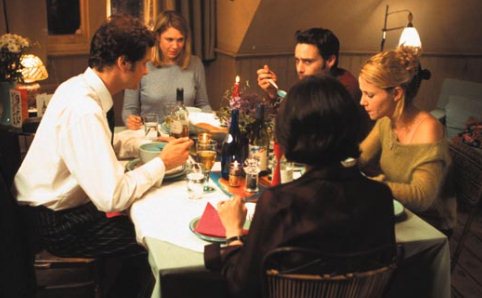 By Guest Writer, Effi Mai
It's the Bridget Jones moment all over again when you walk into a room full of happy couples and have to sit on the end of the table. You can't call it the head of the table like you're an important guest because you're only sitting there because you haven't got someone to sit next to or opposite. I was going to do my normal complaining thing of telling you about the coupled-fueled dinner that I went to with friends recently but it turned into quite an event which was a bit of excitement to the night.
So I went to last Tuesday to my friend's house. The first surprise was on the Friday before when I got an invitation. Like a proper paper written-out-with-my-name-on-it invitation. Now if these friends were coming round to my flat for dinner then they would be lucky if I even remembered to text them. But no, here this invite was with gold lettering if you please requesting me at a dinner party at their home. And I had to dress formally. Wearing a dress to a house that I've once passed out in wearing only a bikini, covered in rainbow paint after one messy Gay Pride seemed slightly odd.
But I was good and did what they asked, turned up at their door with a bottle of wine and complimented them on the decorations they had put up. The wine was taken into the kitchen which always worries me because I know I'm only going to get it back in small glasses with long breaks in-between each one, and to be honest that just means there will be too much blood in my alcohol system to survive the evening.
At the table, before I'd even taken a bite of what looked like congealed cat food (apparently it was some sort of pate) I got asked 'so is there anyone on the horizon?' I answered the question with a sarcastic smile and eat my 'food' and down my wine. A tip for anyone in this situation; tapping your glass will not make the host fill up your glass, tapping the glass will in fact make them think you want to give some sort of heartfelt speech.
Once the main course came which was some sort of green stuff on top of brown stuff but actually tasted ok, the conversation had turned to 'Why lesbians move in together so quickly.' The two in question were living together after just two months and had those but-we're-different-to-everyone-else-looking-at-each-other-in-the-honeymoon-phase faces going on. The trick to not give your actual opinion and get yourself into trouble is to choose someone in the room at random to agree with and then whenever she says something,  just nod along like a deranged puppet until you can get yourself out of there. Especially when the couple start using baby voices to talk to each other.
Now obviously I'm not talking about all couples, and I didn't know most of them around the table but I do think it's inappropriate to start feeding each other bits of meringue and cream. Especially when the woman next to me started making noises similar to that of an orgasm and/or a tortoise being strangled. And just when I was losing the will to live and contemplating what damage I could do to myself with a soup spoon , it happened. The shouting, the yelling, and the food being chucked.
From the kitchen two couples emerged and started shouting at us that we knew. Knew what I hear you ask, well it turns out that a girl from each couple had been cheating on their partners by sleeping together. Of course after that the dinner party didn't really have that nice welcoming atmosphere. Especially not when people were being threatened with Ladles and bowls of raspberries.
So generally Dinner Parties are what I dread as going alone the conversation always seems to be on you and the many differently worded questions on why you haven't brought anyone. This party was quite an acceptation. And so the advantage of being single and not part of this drama in any way is that I could swan out of there, hit a bar, and had a much more enjoyable night with the company of a hot girl and tequila. Winning.