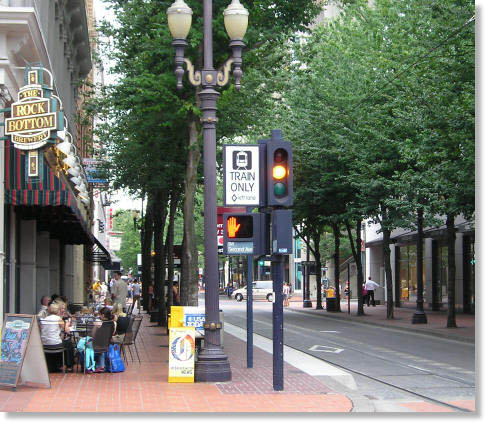 Best Places to be A Lesbian
Sometimes the hustle and bustle of life in Los Angels wears on my nerves and I start day dreaming about running away to Little Town USA and starting over. Maybe buying some land, putting up solar panels and buying the water rights to my very own well. You think I'm joking? I'm not.
For what I could sell my 4 bedroom, 2 bath house here in L.A. for, I could literally buy a freakin' estate somewhere else …. almost anywhere else across the country and have a nice little nest egg. I've researched the markets, talked to realtors. I even convinced Remi we should just do it.
But of course I want to move somewhere gay friendly. I'm more then a little spoiled here in LA, where we have Long Beach to the south and WeHo to the north. I'm conveniently located smack dab in the middle of two of the gayest places on earth. So of course if I'm going to uproot my whole life, I want to make sure I'm not moving somewhere that will try to force me back into the closet.
After a lot of thought, I seriously considered Salt Lake City, Utah. Don't yell at me just yet. Hold on and hear me out. SLC has one of the fastest growing gay populations in the US not to mention that for my money, I could literally afford to buy a gorgeous, renovated Victorian in downtown Salt Lake City and still buy myself that new BMW I've been drooling over. Not to mention enough seed money to start up a little business. Ya, not sounding too stupid now is it?
Well, we were getting all excited about the idea when I started getting in contact with the local GLBT community out there to really find out what it's like to be gay in Utah. The unanimous opinion from every gay person I spoke to was, "It's great out here, we have a strong, vibrant, close knit community. But make sure you stay within the city. Oh yea, and the laws suck, we have no protections, no rights and you could get fired just for being gay. But other then that, come on over!"
Eeeeeeek. Excuse me?
So I did some more research and found out, unfortunately that Utah is not for me. While there are good deals in real estate out there, I'm not about to move to a state where every one warns me to stay within the city limits for my own safety. WTF??!!! Not to mention the long list of civil right infringements that go along with being gay in Utah, No thank you.
Apparently, one of the many prices you pay for living in a gay friendly area is sky high real estate prices. Like someone said, but i can't remember who, "I always knew I'd live in a million dollar home in L.A. I just didn't know it would be a two bedroom, one bath." 🙁
So for now, I've resigned myself to staying in sunny southern California for the foreseeable future. But out of curiosity I googled, "gayest cities in the USA" and came across this list of the top 5 best cities for lesbians.
I've only been to San Francisco, but I've got to disagree with this list. I firmly believe that Los Angeles should have made the list. But here it is anyways, for your perusal.
Top 5 Top Lesbian Cities in the United States
By Kathy Belge, About.com
1. Northampton, Massachusetts
Dubbed as "Lesbianville U.S.A." by the The National Enquirer in 1992, Northampton, MA is the best city in America for lesbians. The Northampton area has always been a great place to live, and because gays and lesbians can get legally married in Massachusetts, it tops our list. Northampton is a small town, but because of the numerous universities, including Smith College, Northampton has all the cultural offerings of a big city.
2. Portland, Oregon
If Northampton is Lesbianville of the East, Portland is Lesbianville of the West. Lesbians flock to Portland for the same reasons straights do, it's a great place to live. Among other distinctions, Portland was rated the Best Walking City and Best Bicycling City in America. Although voters passed an anti-gay marriage law last year, Portland residents lean more to the left than the rest of the state. Add a great music scene and plenty of lesbian hangouts to the mix.
3. San Francisco, California
San Francisco must be the gayest city on earth. And it's not just the boys who find home here. Whether you're a young, politcal dyke or gender queer or a six-figure power lesbian, San Francisco can't be beat. Take a stroll in Golden Gate Park or shop for wedding bands in the Castro. With one of the nation's best domestic partnership rulings and child protection laws, San Francisco is also a great place to raise a family.

4. New York, New York
The largest city in the world is a mecca for lesbians. Brooklyn's Park Slope neighborhood is where the sapphic sisters of New York tend to congregate, but the city that never sleeps has something for lesbians of every age, political persuasion and background in all of its borroughs. From the classic Rubyfruit bar to esoteric performance art in Soho. Whether you want to visit the home of gay rights Stonewall Riots or if Riot GRRL is more your scene, New York City is the place for you.
5. Atlanta, Georgia
Atlanta is the queer capital of the South. And one of the nation's most diverse. Whether you want to dance your feet off at My Sister's Room lesbian bar or spend a leisurly afternoon at Outwrite gay and lesbian bookstore. With one of the nation's largest gay pride parades, gay film festival and numerous other cultural events, you'll understand why they call this "Hot-lanta."