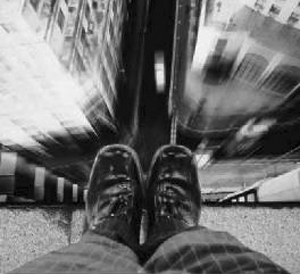 I hate being bipolar. Not all the time, only when the depression side of it comes into play and it feels impossible to even get out of bed. Then I hate it with a vengeance.
We all know that I don't travel well. I don't really know why. But for some reason the stress (no matter how non-stressful it seems to be) always throws me into a bad, BAD episode.
Remi and I both know this happens, so to gear up for our week long trip to Oregon I had been taking my supplements religiously, doing yoga, meditating, eating well ….. the whole nine!!! And I felt amazing! Unstoppable. But the problem with bipolar is you can never trust yourself. Are you feeling good because you're healthy and doing all the right things? Or is just a manic or hypo-manic episode coinciding with good behavior?
I was fine the first night of the trip. Amazing actually. No stress, just enjoying the road trip. I wasn't even freaking out about leaving my dogs. But the second night was pretty hard. I had one of those weird episodes where I sort of leave my body for a little bit. Dissociate. Preceded and followed by rage. I tried to book a flight back home that night and took off in the middle of the night, in my pajamas. In the middle of nowhere, I had no idea where I was. So I returned to the hotel to find my poor wife, shivering in the parking lot. I was a total bitch and I was out of control. The worst thing was, I couldn't help it. In fact, that was me trying to be in control! Had I given into my urges, I would have been on the 4:00 a.m. flight from Portland to LA in my purple striped pajamas.
The next morning, I downed as many supplements as I could swallow. Dug deep and told myself, "I can do this." ………….. And I did. The next five days, I was pretty much OK. But part of that was probably due to the fact that Remi was so upset by some family drama that my protective persona took over. We couldn't BOTH break down, so I was able to hold it together for both of us.
But as soon we got back home, I crashed. Big time. It's been what? Three weeks almost?? And today is the first day I don't want to take a bottle of sleeping pills and wash it down with a few bottles of vodka.
Fuck bipolar disorder.