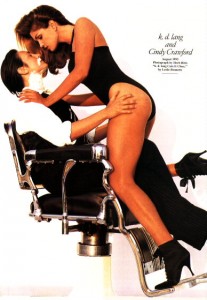 I find it endlessly interesting, the way that us lesbians feel the need to categorize ourselves and each other into these limiting roles of femme, butch, tomboi, androgynous and futch (right in the middle between femme and butch). I'm sure I'm missing some, but these are the ones I hear most often. Actually, I usually just hear femme and butch. But we all know that there's a million shades of gray between those two extremes.
Even though I know better then to stereotype and label people, I find myself doing it all the time. If for no other reason then as a means of describing someone to someone else in a casual conversation. Or while people watching at a lesbian club. Last night, Remi and I went to Club Eleven in WeHo and could have been overheard saying any version of, "Look at that butch checking out the femme in blue." Or, "Whoa, is that some butch on butch action?!" Not that there's anything wrong with that.
But that's sort of my point. Why is it considered taboo in some circles for two butch women to date? Why it considered ok for two femmes to date? Why do femmes get a shot at every one, while other labels seem to be more caged into who they should be attracted to? Why when the bill comes, do the waiters ALWAYS put the check in front of Remi and not in front of me?
I'm sure I've described Remi before. But for clarification, let me do it again. She's a very sporty type of girl. I call her a tomboi. She has short hair, usually wears wife beaters, jeans and chucks. But has been known to wear eyeliner when the mood hits and when it's called for can dress up and show off her amazing body. She's not butch, which she says on almost a daily basis.
Yet despite her categorical denial of the butch role, has admitted that when "other butch women" see her, they get all territorial and the invisible pissing contest begins. What is that?!
Remi also wears a uniform for work. So when a co-worker recently saw her out of uniform and in some very form fitting clothes, her response was, "I would never have guessed how you dress out of work!"
To which Remi asked, "Why? What do you mean?"
The very straight co-worker went on to explain her logic, "Well considering the pictures I've seen of your girlfriend, I thought you'd be all super butch!."
Remi responded with, "Well that's stereotyping. Just because my gf is very femme, doesn't mean I can't dress like a woman too."
She relayed this little story to me last night on our way to gay boy mecca, WeHo. I laughed with her but thought, wow, even a straight girl thinks that femmes only date butches. So Remi is sort of butch by association.
She loves to deny any butch tendencies. But she always opens doors for me (even the car), she pays for everything and she basically takes charge on most things. If those aren't butch qualities I don't know what is.
But butch can be a state of mind too. I have some femme friends that look femme but have butch brains. I've even been known to get a little too butch for Remi's taste. She likes to be the one on top, in more ways then one.
Ugh., I know this blog is a bit all over the place! But I'm just curious what is this obsession with butch/femme? Do we just feel better knowing our roles?
For me it just makes things a little less confusing. I'm a femme and I'm OK with that. But what about when the world sees you as something that you're not OK with? When people assume Remi's the butch in the relationship, she can get offended depending on how it's said. I've dated butch women that would snap at me if I said anything that remotely made them sound like I saw them in a feminine way at all!
Huh. Lesbians and their gender roles. GO figure.