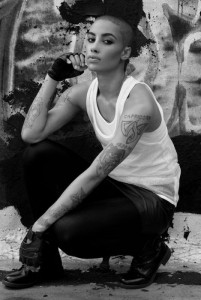 A close friend of ours asked me if I took requests. Do I take requests?? Honey puh-leez! I'm all about pleasing 😉 Her question to me was actually more for the femmes in the audience. She kindly asks, "What do femmes think of butches with tattoos?"
This by the way, is coming from a super suave, super sexy butch who could have femmes lined up around the corner with a single look. Maybe I can convince her at some point to be a guest writer or interview her on camera! But till then, you'll have to take my word on it. She's the real deal and she's asking for a femme survey. So have at it ladies.
Butches and tattoos? Hot or not? Turn-on or turn off? Yay or nay?
I'm just going to jump in and start off with my humble opinion on the topic and say that personally, I love them. But not all tattoos are created equal. I'd be lying if I didn't say that when I see a super girly tattoo on a butch, it sort of confuses me.
A butch who shall remain nameless, but who I dated and liked to think of herself as a hardcore butch, instantly lost some bad ass points when she revealed the girliest, femmy-ist, tattoo I have ever seen! I didn't even know what to say!
So, I will say this: to me a butch with a bad ass, masculine tattoo is fucking hot. I love script tattoos, in exotic fonts along the forearm, inner biceps, hands, neck. Ohhh …. neck tattoos …. nothing says gangsta mentality quicker then a neck tattoo!!! *swoon* Oh and sleeves are killer sexy. What else is sexy in tattoos? Funny tattoos that are purely for entertainment purposes or have a hilarious backstory to them. A sense of humor is always sexy in a butch. And a humorous tattoo shows that they don't take themselves too seriously.
But it's hard to make a list of what is and isn't hot in the world of butch tattoos. Because each person is unique and what might look hot on one, might look odd on someone else. So let's hear from the girly girls on this one! Ummm …. actually, I want to hear from butches that have tattoos too and everyone in between.
Your assignment is: Butches and tattoos? Pontificate at your leisure.
And if you want to submit any pics of yourself or your hot butch with tattoos to cardcarryinglesbian@gmail.com and I'll post them later in a follow up post!