Some of you may recall a bog I did a long time ago about wanting to get a tattoo. At the time I was contemplating getting Angel wings on my back or an Angel on my wrist.
Before I go on about my reawakened desire for ink, I should tell you that I am presently, tattoo free. Yep, that's right. Somehow a lesbian that was born and raised less then 30 minutes from Hollywood, has managed to never fall into the trendiness of tattooing or piercing. I don't even have my ears pierced.
Now I'm not saying that all tattoos and piercings are trendy. But a lot are. Which is one reason that I've never done it. I've always liked to think of myself as a bit of a rogue and while tattoos used to be associated with somewhat of an outlaw or rebel identity. It is now commonly seen on the lower backs of many a soriety girl and soccer mom alike. Gone are the days that ink set you apart from the crowd. Now, you're something of an anomaly if you have yet to join this massive tattooed tribe.
Which is one reason I hesitate. I don't want to be "unique, just like everybody else." And Remi is dead set against it. Sure, Remi has a few tattoos, including a USMC tattoo proudly displayed on her little, but buff shoulder. I would be lying if I didn't admit that I love it when she wears shirts that show that off. And people always notice it and comment on it as we walk into a club, hand in hand. But as far as Remi's femmy wife getting a tattoo???? No way, she's not having it.
However, I do have my reasons for wanting it. Maybe it doesn't make sense to anyone else, and I don't care. Let me fill you in on my thought process.
First of all, I want a script tattoo in a stylized Sanskrit-ish font. Like this one:
Then I want it to be a prayer for protection and I want it below my elbow, sort of like the ones Angelina sports.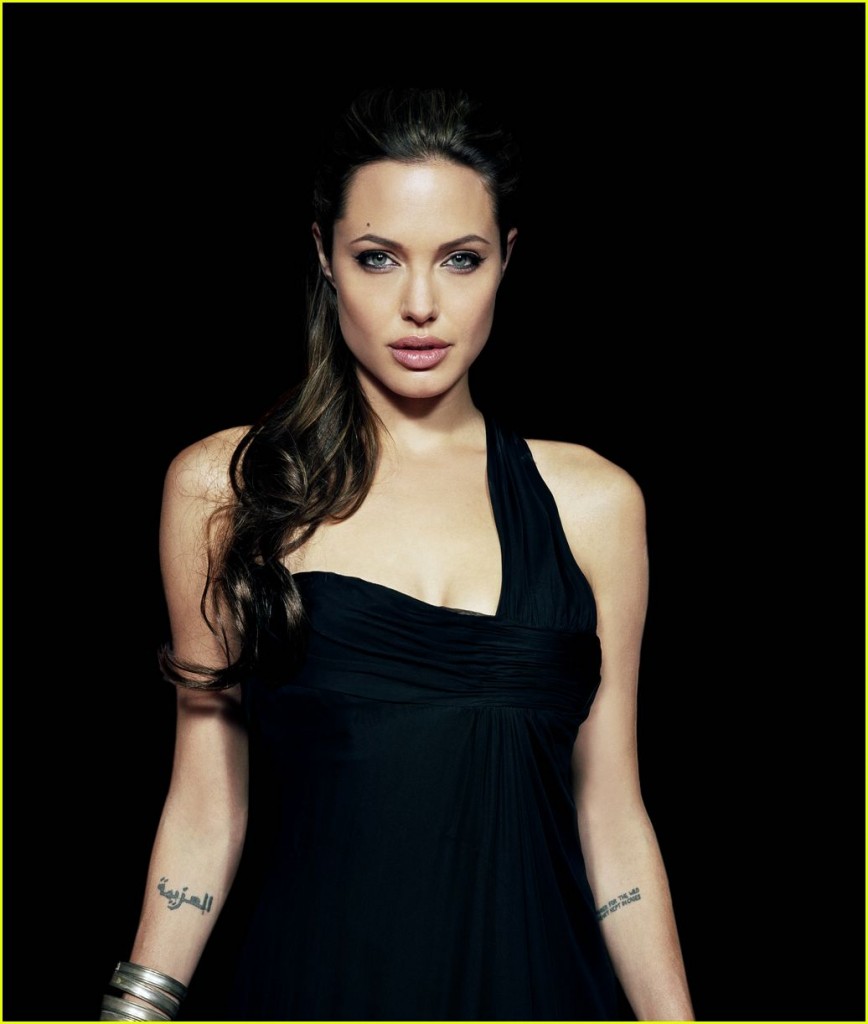 I want it in a stylized font, but it's important to me that it's in English because I need and want to be able to look at it in times when I need to be reminded that things get better.
In case you haven't put it together, I want to get it because I think it might save my life one day. I know that sounds melodramatic but it's the truth. I've done some extremely dangerous and stupid things in the past. All of them were done with the thought that if I died, it would be for the best. And a few dark times, I've actually taken things as far as I could have. And the fact that I'm still alive today is because the hand of God saved my life. Call it a Guardian Angel or God or a miracle or it just wasn't my time. Whatever you want to call it, but I've pulled a trigger twice and once it jammed and once someone redirected the line of fire in the split second that saved my life.
I figure three strikes and I'll be out.
I am more grateful then words can ever express for having been saved both times in the darkest of moments. I've also sworn to myself, to God and to Remi that I would never try to take my life again.
But just because you promise something like that, it doesn't make it any easier when the storm clouds roll in and you feel like your old demons are hunting you again. Somethings just can't be cured or solved. But instead it's an never ending fight for your own life. It's you against it. And "it" is the illness or the darkness that comes without warning and won't leave without another bloody battle.
It is for this reason and this reason alone that I want this tattoo. I want it in a visible place, like my arm. Somewhere I will see it every day. Somewhere I will see it as I reach for that bottle of pills, that drink, that weapon ….. I don't know, maybe seeing a prayer that's always brought me comfort and brought me through the hardest hours of my life will give me pause next time I feel overwhelmed. Maybe having a prayer forever on my body will act as a talisman of protection.
Do I sound naive or superstitious? I don't care if I do.
Maybe it won't work, maybe it won't bring even an ounce of comfort. But then again, what if it does? What if one night, it's the one thing I can hold onto? A physical reminder that God exists.