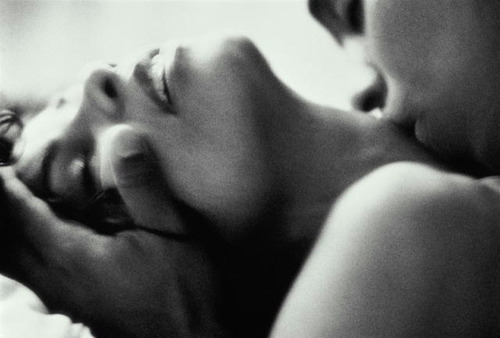 She was exactly the same height as me. As she stood there, pressing her body against mine, I looked her straight in the eyes and waited for her to do something. Anything! My body was almost twitching from the anticipation but I was trying to play it cool.
Then I felt her hands on the sides of my thighs, on my bare skin her fingertips felt hot. She slowly ran her hands up my legs and when she got to my waist she squeezed a bit. Simultaneously bringing her lips to mine. A cool breeze whipped through at the same time and  the contrast of the cool air and her molten hot lips on mine gave me shivers. I closed my eyes and just let her kiss me. My lips parted and her tongue wrapped around mine in a fluid dance. As she kissed me, I could feel myself getting more and more turned on. I was literally weak in the knees and felt like my legs might give out at any moment.
I instinctually brought my hands up to her shoulders to steady myself. I was struck by how strong she felt. I ran my hands down her arms, over her biceps and back up to her shoulders. She definitely worked out. Touching her made me even wetter and I lost all sense of where we were. All I wanted was more of her. I kissed her back with more passion and she instantly responded by grabbing me by the back of the head, running her hands through my hair she pulled my head back with a tug. Exposing the nape of my neck she bit me, licked where she stung and began to kiss her way all the way up to my ear. All the while pulling my hair, putting me exactly where she wanted me. And I let her.
She ran her other hand down my body and had just started to make her way between my legs when we heard a horn honk. It shattered the moment and the illusion that we were alone. But she didn't even let go of me as she looked over to see a car with a woman in it. The woman rolled down her window and yelled, "Some of us actually want to wash our cars! Get a room!!"
Erin casually looked at me, with a naughty smirk and said, "Not a bad idea, huh?"
She had never moved her hand from the top of my thigh and as she looked at me, with that glint in her eye, she slowly ….. deliberately brought her hand up between my thighs. Holding my gaze the entire time, judging my reaction. I gasped as she touched me. She bit her lip, raised one eyebrow and kissed me once more.
The angry woman waiting for the car wash honked her horn again. Erin slid her hand up from between my legs, to wrap around my waist and pulled me in tighter. We both looked at the woman in the car and Erin flipped her off. I giggled, a little caught off guard by her aggressiveness, although I shouldn't have been at this point.
With that single gesture, the woman responded in kind and laid on her horn. She wasn't going to give up. My heart sank a little. Was this it? Was whatever this was, over? As quickly and as unexpected as it began?
Erin, pulled me away from the car a bit to open my door. She motioned for me to get in. As I did I looked up at her, waiting to see how she was going to say goodbye. We had literally just met 15 minutes ago and I already wanted more to happen. I didn't want this to end.
She leaned in and kissed me on the cheek.
My heart dropped. It was goodbye.
Then she said, "Follow me." And with that jogged off to her car, started it up in an instant and backed up to look at me from her rolled down window. Her smile made me forget how to drive for a second. I had butterflies like I had never had before.
I nodded, letting her know I would be right behind her. She turned out onto PCH and I was only seconds behind her. Only then did it occur to me, where were we going!?