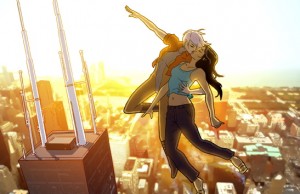 OK so remember that cool new lesbian superhero I told you guys about? Iridian.
Well as it turns out, her creator, Paul J Salamoff is cool as hell! He's such a great individual and talented writer who's created a lesbian superhero, helloooooo!!!!! Do you get how cool this is? Do you get how important this type of project is for our community and for the future little members of our community to have role models like this in the media?? Well, it's super duper important.
I feel so strongly about this and want to do my part to hep make sure this campaign gets funded within the next 5 days that I have agreed to donate 5 limited edition pieces, made just for "The Tales of Discord" as part of an incentive package for his backers. I'm not getting paid for this, I'm donating it, because I really believe that visibility is important. And having gay and lesbian superheroes becoming a more common thing can be a real game changer for young people struggling with their identities. It helps young people to see themselves reflected in comic books, movies, media. It really does matter.
So I'm basically pleading with you to donate to this project and help make it happen. If you can't donate on the "Iridian tier" please give whatever you can. Even $5 or $10 will help! And come back here and let us know, that you played hero for the day and helped make this a reality.
The following a press release from Salamoff introducing the new tier.

NEW LIMITED EXCLUSIVE TIERS
Hey folks, well the good will keeps coming for TALES OF DISCORD and I've got some awesome LIMITED EXCLUSIVE TIERS that I've just added that I want to tell you about:

$125 "IRIDIAN Tier" – Sasha Lotrian of the popular CARD CARRYING LESBIAN Blog (CardCarryingLesbian.com) has generously donated jewelry from her beautifully hand-crafted "Hard As Steel" line. These LIMITED EDITION Iridian Necklaces are available in 7 different styles to choose from and are hand engraved with the words: "Fight Discord". This is being offered along with the items at the $30 Tier PLUS A signed Limited Edition of TALES OF DISCORD: IRIDAIN and an Iridian Sticker. (ONLY 5 AVAILABLE)

$125 "SOLARIS & MOONSHADOW Tier" – Actor/Writer/Director NOEL CLARKE will sign a Limited Edition of TALES OF DISCORD: SOLARIS & MOONSHADOW and a "Mickey Smith" Doctor Who action figure. You also get a Solaris and Moonshadow Sticker PLUS EVERYTHING from the $30 Tier! (ONLY 3 AVAILABLE)

$200  "TWEAKER Tier" – Artist/Drummer Neil D'Monte has signed a pair of drumsticks he used on tour with Chris Vrenna's (of Nine Inch Nails & Marilyn Manson) band TWEAKER plus Neil will draw a B&W Sketch of any Discord character(s) of your choice. These are on top of EVERYTHING you get at the $75 Tier! (ONLY 1 AVAILABLE)