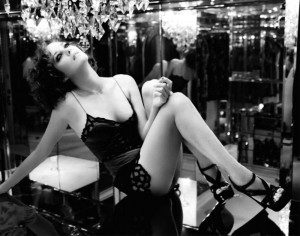 By Guest Writer, WWG 
It's the cry of most women, no matter whether they have only a suitcase's worth of stuff, or enough closets to make Mariah Carey and Imelda Marcos jealous – "I have nothing to wear!"
I admit, I'm more the latter, but this was what came out of my mouth when I recently had to get ready for a date.  There are so many factors involved with getting dressed that go beyond just the clothes in your closet. First, there's the weather. Then there's the ups and downs of your weight according to your cycle. I don't know about others, but even two pounds can make a huge difference in what clothes I can wear or not wear. And then, there's the real question – how should I dress for her?
I made a huge mistake on a first date shortly after coming out. I super-femme'd it up. I wore a dress that showed deep cleavage, and showed off most of my back, along with 3 inch heels. I looked great – if I was going to a nightclub. My date showed up in a button down shirt (plaid – duh

) and shorts and sneakers. We looked like a total mismatch, and we were. I have no idea if her nervousness was in part due to my outfit, but she looked at me like I was a lioness about to, ahem, eat her alive. And not in a good way.
The date ended with a wave – yes, I said a wave- as she hightailed it out of there after, scared.
I learned another valuable lesson with that date. Dating women is not the same as dating men. Oh, I know, that's obvious right? Not if like me you've got over 10 years of knowing and expecting what makes men tick.  If I'd been on a date with a man, I have no doubt that outfit would have gotten me waved in the direction of his bedroom. It's been an adjustment shifting from dressing to attract men to dressing to attract women, all while staying true to myself and my own style comfort zone. One of the things an (albeit somewhat ignorant) former acquaintance said when I came out was "don't cut off all your hair and wear baggy clothes just because you're a lesbian now!" I got what she meant – don't change yourself for who you like.
As we know, many lesbians do go through a huge appearance change when they come out, many with the pendulum swinging the exact opposite way. For some lesbians it's about finally dressing in a way that makes you feel comfortable,  and coming into your own, and for others, it's about thinking that's how you have to dress to be gay . So, despite her choice of words, I think my acquaintance gave basic good advice, no matter who you date. I don't want to change myself. I just want to be comfortable with myself and have my date be comfortable and attracted to me too.
For those of you who live in cities (aka those of you who have no car to store an extra outfit in) versus those who live in the suburbs or rural areas, there are also other issues with getting dressed for a date. For me, as a city girl, I have to be aware of the shoes I'm wearing because I'm going to be wearing them all night, with no reprieve, and we will likely be walking quite a bit. But I still want to look cute! Not to mention, you have to layer things just right so you're not too hot, nor too cold, because if you're too hot, you could find yourself carrying that sweater all night long. Not sexy.  (Although being too cold can be fun if she offers you her coat. Romance bonus!).
I admit it, I PANIC before dates. I can get home, shower, put on makeup, get dressed and out of the house in about half an hour for events with NYC's most fashionable in attendance, but for a date? Three hours, minimum. Two of those hours of course are spent taking clothes out of the closet, trying them on, tossing them away, trying on other outfits, wondering semi-seriously how much time I have to dash out to a local store to buy a whole new outfit, cursing myself for not having the perfect complimentary item to whatever outfit I do want to wear, and more. We're not even getting into all the other femme dressing parts that are required for dates! That takes time too!
After awhile of staying away from dating, I recently had a new first date. After going through my entire closet, cursing every item I had and didn't have, I finally settled on a fitted pair of pants I love. And then, I settled on a pair of favorite heeled boots that were one inch high – perfect for walking, but still cute and femme. And then I wore a favorite sweater on top. For once, I wasn't ridiculously all styled up for a date. I felt comfortable. And you know what? I looked pretty darn cute.
And she thought so too.