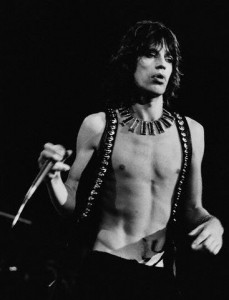 This is currently one of my favorite songs to dance around to. Whether car dancing with Remi at stop lights with glow sticks or by myself at home in my undies, this is on today's playlist.
After watching the video, I came up with the brilliant idea to have theme nights when we go out to the clubs. Like "Moves like Jagger" night where we dress up like Jagger and ONLY dance like Jagger would dance …. to EVERY single song, no matter how badly it doesn't go or how much people don't get it. What do you think? Then we could have a "Dougie" theme night, a "Humpty dance" night, a "Vanilla Ice night" ….. the possibilities are endless! Suggestions welcome!
Now please turn this video up and channel your inner androgynous rock star!
(BTW, is it just the lesbo inside me or did Shane ever remind anyone of Jagger too?)