One question I keep hearing over and over again is, "How do I know if she likes me?"
I hear this question at least once a week if not more and one particular friend suggested I write a blog on how to tell if she's just not that into you? I thought that was a good idea so from now on when I get asked these questions, I can send them to CCL. But this topic is much too complicated and long to cover in only one post but you've got to start somewhere.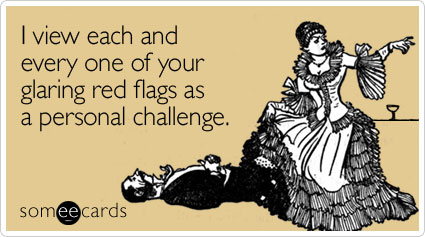 Well, there are a lot of little red flags that you should be on the lookout for. While most of them will seem painfully obvious to anyone not currently afflicted with unrequited love, bear with us while we try to point our lost sisters towards the tunnel of light.
The first and very, very obvious sign that any gay girl worth her salt needs to look for is orientation. Is the object of your desire of the sapphic persuasion? Or does she exclaim over cocktails with the girls, how much she loves the penis? If you're not sure, pay attention. If she demonstrates her rock star blowjob on her bottle of Corona or brags about how much "dick she gets" then she probably bats for the other team.
What if your crush isn't this brash? Then look for more subtle cues. Is she boy crazy? Does she have a thing for a cute guy in the office? Does she tell you about her dates with men and sound happy or excited about it? Ok, now here is also where you might see a sign that can confuse you. If she talks about men a lot, but only complains about them and how badly they treat her. Your lesbian brain may want to read this as a cry for help. As an opportunity to swoop in and show her how she should be treated, how you could treat her.
But DON'T. Not yet. A lot of straight women hate men. Not in a really "I hate men and never want to have sex with them again way." But usually in a " I hate them but can't live without them either" sort of way. So reign in your natural urge to play hero to your seeming damsel in distress. She just may be venting and you just may be the friend she feels safe enough to do that to. But don't read too much into THAT either.
I know a lot of lesbians that think almost all women have some gayness in them. But I don't agree. That's the equivalent to men telling a lesbian that they just haven't met the right man yet. Rude right? So don't do it to the straight women in your life, it'll just creep them out.
So while this is only the first in what may end up being a long series, the first and most important clue that a girl just isn't that into you is??? Come on, pay attention because there will be pop quizzes.
……. If she's straight, then she's just not that into you. Period. Move on. Don't try to change her mind about the vagina. Don't wait until she's drunk one night and think that a sloppy, Cosmo tasting smooch means anymore with you then the five other people she kissed that night. And don't wait around, following her like a lost puppy dog because you could and probably are ignoring a perfectly gay girl who has her eye on you. And how sad would that be??