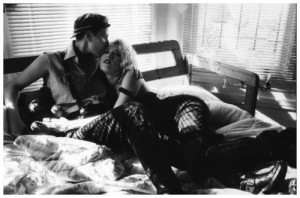 By Guest Butch, Raye
All of the questioning and sexual fluidity on the blog lately has inspired me to write something to explain my stance on these issues and perhaps offer some hope and support (GASP) to the bisexual, questioning and unsure women who are reading this site looking for answers. I know many of you may find it hard to believe but we have more in common than you may think. I don't breach the subject very often because it is one that is very personal to me and I don't like sharing my Private side with strangers.
I have been where many of you are.
Maybe you married a guy young and find yourself confused by your attraction to your husband despite the fact that your heart and body longs for women. You question your feelings for women because you know that you are not repulsed by sex with a man. In fact sometimes you actually crave it. But in the darkest parts of your mind you secretly feel like you are missing something. You yearn for a deeper connection. You wonder why you like him but you are not enamored by him and do not swoon when he gives you attention. You feel as if somehow you failed as a woman because you just can't seem to give all of yourself no matter what he feels for you. There is guilt. There is pain. There is fear. There is confusion. But mostly there is just an emptiness that you can't seem to fill.
You know you want to feel what it is like to be loved by a woman. To be touched by a woman… maybe even a butch woman dare I say. But something holds you back. You find yourself daydreaming about it more than you remotely think about your husband or boyfriend. But then the thought of leaping off of that precipice seems so frightening you can't breathe. You wonder if you are just going through a curious phase or something and fear that you will trade your whole life for a whim and find that the love you have now with your boyfriend or husband was what you wanted afterall.
But here is the problem: sometimes what you think you recognize as love or attraction is just a fraction of what it should be. And because you have never experienced that feeling, you have no idea that anything is missing. Oh sure you have a feeling of loss but you don't trust it. Your desire for butch women is not confusing in the least. But the roadblock to your discovery of yourself is your relationship with your husband. I left my husband years ago. At first I identified as bisexual because it was just easier in society's terms. But when I let myself explore who I really was, I found out that my desire for my husband was just a consolation prize for denying my true self. It never compared in the slightest to what overcame me the moment a woman finally whispered in my ear, "I want you."
I hate to be a cliche' here but the Melissa Etheridge lyrics, "I sold my soul for freedom. It's lonely but it's sweet" rang very true for me when I decided to go against what was comfortable and established in my life, to chase something that I had never fully experienced but knew I wanted desperately…. fuck wanted… NEEDED.
It takes a very long time to get where I am. I first told my ex-husband that I was a lesbian when I realized that I wanted a woman and I didn't want to share her. And I wanted her infinitely more than I wanted him. And not just her. I wanted women. When I felt that indescribable passion, I knew that it was something I could never give up again. I knew that even thought the relationship may not work out, I could never go back to desiring a man because no man could ever make me feel the way THIS made me feel.  I am not going to say that I have never found a man attractive or desirable since because that would be false. There are some men I have seen that I could picture having sex with even as a butch.  I know it is taboo to say that but the fact of the matter is that human sexuality is complex. I am no different than a straight woman who meets a woman she finds attractive, and with whom she could picture having sex. That does not make her a lesbian and it does not make me straight. And for those of you who think this makes me any less of a butch, talk to every woman I have ever been with and they will assure you I am 100% completely and most definitely a butch daddie.  But I am secure enough in my identity to be able to talk about my past and my private thoughts.
The bottom line however, is that I know in my heart it would ultimately lead to naught. Because at my core, I desire most passionately and completely the life I have with a woman only. Anything with a man would be physical and fleeting and very very selfish. I say selfish because I could not offer him all of me. I could not love him with the fervor that I love women and I would always be looking at women and longing for them again.  I am not queer just because I can't handle a relationship with a man. Men are easy to get and easy to keep.  I took the road less traveled to find my freedom and I will never apologize for who I am again and I will not hide it and I WILL NOT be with someone who hides me from their world or claims not to be a part of mine.  That is why I am adamant about finding yourself and defining it clearly. Otherwise you live your entire life in a state of limbo and uncertainty and that is not fair to those people you dare to love. Love is a devoted commitment to someone. You cannot commit if you remain undefined and indecisive. You can focus for a time but what you have created is uncertain and lacks a maturity that is needed for longevity in relationships. Humans spend their whole lives longing for love and relationships because we are programmed to be that way. I thank God that this is so, because the alternative would be very cold and empty in my eyes. I don't know one single bed-hopping individual who is truly happy and whole to the core. Other people loving us is not what makes us whole. It is us loving others that fills the void. And you cannot love someone you cannot be devoted to. You have a form of love but not refined. Because every time you make love to someone, you give up a piece of your soul whether you realize it or not. Eventually if you leave enough pieces of you in other people's beds, you will have lost yourself.  I don't know about you but at the end of my life I want to be able to say that I loved someone with everything in me and left everything on the table. If you were honest with yourself, you would admit that this is what you want too. It's human nature.