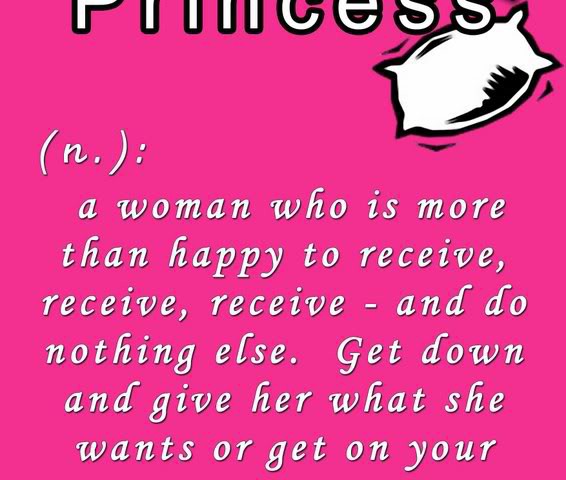 Confessions of a Pillow Princess
I was having one of those uncomfortable conversations late one night in bed with my girlfriend. It went something like this:
"It's been two days."
"I know, I'm sorry. I'm just really tired."
"That's what you said last night and the night before."
"I know, I'm sorry!"
"Stop saying sorry! I just want to know what's wrong."
Dead silence for a few minutes. Reruns of Ghosthunters playing in the background. Then for no good reason I can think of, out of the blue I follow up with, "You want to know what I miss about having sex with a man?"
Really? What the hell is wrong with me!?
"What?" was the only thing Remi could say but I could already see that I should have kept that part to myself.
Not to mention that I don't actually miss having sex with men, but in my convoluted thinking I thought to myself, "This will be a good ice-breaker into why I haven't been in the mood lately!" …. *dunce cap please* …. just point me to the nearest corner.
So what was my brilliant reason for missing sex with men?! This is what I said, "It's the symbiotic nature of hetero sex. I mean, letting a man have sex with you is giving him pleasure in itself. That's why I like butch women so much. They just really appreciate a woman's body. They get so much pleasure out of pleasuring you. It's just so …. so …. "
To which she cut in and finished my sentence the way she thought it should be, " ….. easy!?!? It's so easy!!!!Is that what you miss???!!!?! Lesbian sex is just too much trouble for you? Is that what you're saying?"
Ugh. OMG! Sooooooo not what I was getting at!!!!
Fuck me. Well, not literally at this point. I was not saying that I don't want to work in bed. She knows for a fact that I love doing my part and I'll do it for hours if that's what it takes.
What I was trying to get across, unsuccessfully apparently, was that I miss the feeling that having sex with me, is enough for my partner. Instead I'm always thinking in the back of my head that when I'm done, it's her turn. Maybe this is totally in my head but I can't help but keep score in my head and the fact that she's usually ahead of me in points makes me feel like a slacker in bed. Which I am not used to!
But then again, I'm used to dating butchier women, who rarely if ever let me even touch them. What can I say? I got spoiled.
I realize that posting this will make me seem like a selfish pillow princess in bed. But honestly I'm not! I'm just going through a funk this week. Haven't you ever gone through a funk?
You're lying if you say no!
In the end all I can say is that I'm human. I get tired. I'm not always up for the reciprocity that I feel is only fair in bed, so instead of letting her take care of me and then falling asleep. I just deny both of us any fun for the night. Which in turn leads to more problems then if I had just been a little selfish for the night and said "Thank you baby, you're awesome!"
She pointed this fact out to me and let me know that it hurts her feelings more if I don't let her touch me at all and that my reasoning …. sucks …. as usual.
Yet another way Remi proves to me that she's a better girlfriend then I probably deserve.