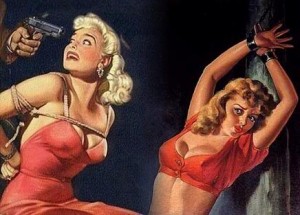 Last night after the lights went out, my gf and I started having one of those deep conversations that only come from being a little drunk or so tired you're almost delusional. We were both exhausted, which translated into being too tired to hit the edit button on our brains. There's also something about talking in the dark that's a lot like talking on the phone. It gives you a feeling of being unobserved, allowing you to pause and ponder what the other just said, unafraid that your partner will misinterpret the trepid look on your face.
If any of you read the comments left on my last blog you could see how I may have felt a little targeted yesterday. And like a good girlfriend, Remi came to my defense. I didn't ask her too, I never would. Not that I would ever have to. While mild mannered in most ways, she's always too happy to come to my rescue.
Which is what we were talking about last night …. my apparent need of the occasional Knight in Shining Armor and her need to be that for me. I started to worry recently with some other things that have been going on in my life that Remi would soon tire of having to always "save me" even though it's usually from myself.
When I asked her about that possibility last night in the dark she came back with an answer that allowed me a little sigh of relief. She said, "Have you ever thought about the jobs I've always had in my life?" As in a Marine and now working in her government job that's still part of taking care of people by protecting them. Her obvious point was that she's always the protector and defender. That's her role. That's what she wants and likes being.
So in a very direct line of logic we were able to realize that in a lot of ways, my being as fucked up as I am in several ways, is actually perfect for her! She likes to swoop in and save damsels in distress and voila! …. I happen to be one! (Not all the time! But enough that anyone with a hero complex would feel totally satisfied in their role of heroine with me.)
So to anyone who has anything to say on my comments towards Remi I want you to know that I'm with her because I love her. Not because I couldn't be with someone else. She wasn't my second choice. She was the only choice. She's the best thing that's ever happened to me.
I know I'm difficult in a lot of ways, but I do take care of her too. Just not in the same way she does for me. We have a very balanced relationship and although it may look exhausting to anyone looking in from the outside, we love it. It's exciting and nurturing at the same time.
She rescues me when I need it and I'm her proverbial kitten up a tree that didn't think ahead when I was running up the damn tree.
Go figure, the damsel found her hero and it's working out. Huh. Who would have thought?