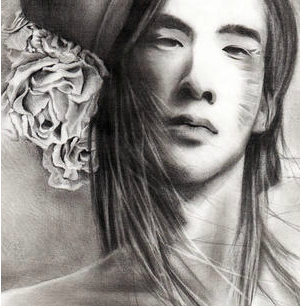 Up till now, my featured artists have all been of the lesbian persuasion. But recently was lucky enough to get to know this amazing couple through my jewelry line. Fate has an amazing way of bringing people together. They were one of the winning couples that won one of my Mr. & Mr. designs from Equally Wed.
First of all, I was thrilled to be crossing over into the male population. But even more excited once I got to know a little bit about this amazing couple. Half of this duo just so happens to be a talented fashion designer and artist. His name is Devon Yan-Berrong and I think the world needs to take notice.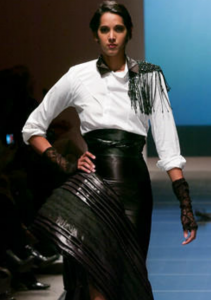 "Born in south China, Devon knew from an early age that it was his destiny to be an artist, but that was not always met with encouragement and praise. In 2006, Devon found the support and encouragement he needed to fulfill his dreams of being an artist without restrictions or demands.   Very quickly Devon found an audience who applauded his gift of being a self taught artist.   An overwhelming wave of praise was poured upon Devon and soon several request from galleries, coffeehouses and other venues to display his artwork came in.   Devon worked even harder to fulfill these requests, his inspirations now endless.   Inquiries from around the world began coming in with interest for Devon's art.   All those years of discouragement that he had received were faded in the truths from those who appreciate and celebrate the artist Devon Yan Berrong.

But Devon's art is not limited to drawing and painting, Devon has renewed his passion for fashion with his 2011 spring collection, DEVONATION.   Over 50 designs of men's and women's ready to wear clothing for his first collection now show just how diverse Devon's talents are.   How his creative talents have no limits.   With his very first collection, Devon is being honored as a finalist of the 'Catapult' Emerging Designs Competition with Portland Fashion week.   The list of honors and praise are as limitless as Devon's talents and inspirations."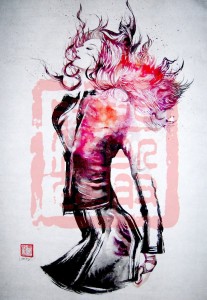 After looking through his site, Devonation, I felt inspired. First of all, here was this insanely talented artist and fashion designer wearing one of my pieces! But his artistry inspired me. Which to me, is what art is all about. Inspiring those who see it to want to be more. I was also lucky enough to get to know his wonderful partner, Ric a little bit and the more I learn about them, the more my admiration grows. People like this make the world a better place.
Because of Devon and Ric, I realized I wanted to open up my jewelry and my writing to be more inclusive of the entire LGBT community. I have been solely focused on the lesbian world and while that will forever remain my go-to arena, since I happen to be a lesbian. I am currently trying to figure out what I can do to include the entire rainbow of the LGBT family in my future projects.
So thank you Ric and Devon for inspiring me to be better.
https://www.facebook.com/Devon.Yan.Berrong
http://www.devonyanberrong.com/#!