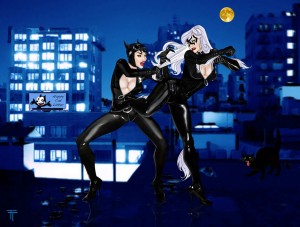 By Guest Writer, Effi Mai
Dating. It's a fun thing to do. It's a happy thing to do. It's a maybe-meet-the-person-you're-meant-to-be-with-for-the-rest-of-your-life thing to do. Unless it's one of the worst nights of you life and you find yourself at home after hearing information you never needed to know, picking pieces of bone out of your teeth, eating a pizza before you're starving and downing wine from the bottle to get over the entire experience. Now I could exaggerate this story and make it funnier but this ladies, is exactly what happened.
So once upon a time it was a Tuesday night and I had a date. A blind date I might add. My friends think it's funny to constantly meddle in my love life as they think I can't manage on my own. And can't understand my lifestyle of going out to clubs until all hours in a short dress while they sit at home cuddled up on the sofa watching Gilmore Girls. But nevertheless I embraced it and got all dressed up, put some high heels on, shouted at my boobs to grow and give me a cleavage and said goodbye to the cat before meeting her at the restaurant.
I won't bore you with the details of how this girl looks but if you imagine a playboy mansion girl crossed with a batman villain you'll pretty much have the picture in your head. And from the moment I sat down the night started to go sharply down hill and all my positive thoughts vanished to be replaced with running away and murderous ones instead.
First off, she had ordered for me. And even though I gave her the what-the-fuck face, she just explained that she knew the chef and knew what was good, and knew that anything on the menu wasn't as good and knew pretty much every fact about tapas food in the world and proceeded to tell me all the stuff that she knew. I have not had so much information given to me since school and at least then I was allowed a toilet break.
Her 'light chit chat,' went something like this. 'I do so love this little place, they've tried to make it very Indian like haven't they, with the lighting and the throws, I know that they're not real throws though because the ones in India actually are made from woven human hair that's first bathed in tiger's milk. The Indian women over there said they'd never met a British girl who was so good at it. I was an expert. They kept telling me to stay with them but I had to travel, I'm a free person you know, just a lost soul wandering around the world looking for adventure and a sense of belonging. I mean this date may lead somewhere, but I will have to go away again at some point and if you wanted to come, or you wanted to stay here that would be your choice but my choice is not live a boring dull monotonous life here but see the world.'
So since she's such a carefree spirit you wouldn't think she'd react the way she did to the wrong wine arriving at the table. And you certainly wouldn't think she'd hurl the salt shaker at the waiter. Or row with the couple next to us because he was coughing to loudly. Other fun memories were her holding my hand to pray in a made up language, drinking the olive oil from the dipping bowl and telling me that having a wart on her finger was a sign of sexual fertility.
The wine helped a little, well it did until the food arrived and she had ordered every meat dish in the place, maybe even in the world. There can't be that many cows left after the amount of beef that was on the table.  Chunks of pink stuff covered in red things and sprinkled with green bits, flat pieces of pink meat slathered in slimy stuff and tiny bits of pink stuff floating in beige water. Just think I'll point out at this point that I'm a vegetarian.
Not only did she try and make me eat the cow, but also, I shit you not, pushed a piece of bone into my mouth because it's a delicacy in somewhere faraway that she's travelled to. And here's a little poem for you – when you're sitting being mouth fucked by a bone, it's time to pay the bill and go home.
Once she had told me that I was the kind of person to stay in the same town forever and have a tedious life, that I shouldn't be using the foundation I was using because 'she's done a beauty course and she knows,' and that she thinks she should probably be dating men anyway because they fit together like bing and bang then I escaped to the beautiful empty interior of the number nine bus.
So yeah. That was the basket of bat shit crazy that I went on a date with a few weeks back. And if I had to choose between waking up alone, eating meals for one and bringing home tequila covered women for one night, or trusting my 'friends' to set me up on another date like that, I'm going to stick with my majestic single life.