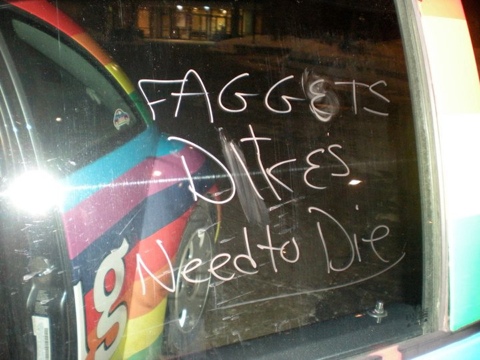 Ever since Remi got me my Mini Clubman, I've wanted to put a little gay pride decal on the window. Something subtle, like the yellow and blue equal sign or a little rainbow corgi. You know, just something little that other family members would recognize because we always love it when we see other cars with similar stickers.
It's just a nice feeling to know that there are other, out gay people around. Even if it's just their car in a parking lot.
Another idea I've had and really wanted to do, was to put a Marine Corps Iraq Veteran sticker on one side and a gay marriage equality sticker on the other. But Remi won't let me put anything gay related on any of our cars because she's afraid it will get vandalized. I want to believe that won't happen, but I'm not that naive.
Then tonight I watched the documentary, Fagbug It's about a college student that had her car vandalized, with the word FAG spray painted across her car because she had a rainbow sticker on window. She took this hate crime and turned it into an opportunity to bring attention to gay rights. I highly recommend the movie because seeing what people's responses were to her, were ….. Mixed. Some pissed me off. Some were encouraging.
Well, it's sad but apparently true. If you have the nerve to stick a gay pride sticker on your car, you risk the very real chance of some ignorant bigot vandalizing your personal property. Which leaves me in a very weird place, because I am out and proud. Hell I would wave a rainbow flag every day (and much to Remi's embarrassment, I randomly pull one out of my purse at any given moment.) but putting yourself out there is different then leaving your car, unattended all over the city in various parking lots. For who knows who to walk by and decide whether or not your car is safe from an anonymous hate crime.
What do you think? Is it worth it? Watch the movie because if you're like me and you live in a big city, you might not realize how dangerous it really STILL is to be gay in America.