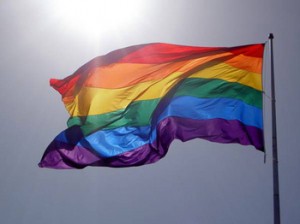 I am not close to my family ….. at all. I didn't grow up near any of my cousins or other relatives and I was lucky if I saw them once a year at Christmas. As we've all grown up it's become painfully apparent to me that we will never be very close.
Enter Facebook to help drive that epiphany home.
At first I was excited when all my cousins and I added one another on FB. Yay, we can finally get to know each other. Maybe even form some friendships and bond over being the new generation of the family. Or not.
What's become painfully obvious via my cousin's status updates is that we have nothing whatsoever in common. No matter how much I want us to, no matter how much I wish we were closer, no matter how much I love them for the plain fact that we are related, I have resigned myself to the cold hard truth. We will never be close. Except for my parents, I really don't have much of a family at all. Except what I make for myself.
My cousins are all kind people. But they're all Mormon, married and have children. They post pics of their kids. I post pics of my dogs. They post pics of their weddings and I post pics of me and my girlfriend at Dinah Shore. They post things about all of them getting together over this or that weekend. I am never invited. And honestly, I'm relieved because what on earth would I talk about with a bunch of married, Mormon mothers? Gay rights? West Hollywood nightclubs? Lesbian relationships? Cookie recipes? Well OK, I do love to bake but I can only carry on a conversation about baked goods for so long.
I've accepted what I knew all along. I will never be part of the family. I'm OK with that, what choice do I have?
I also realized that not only do I not feel any particular familial bond to my extended family, but I don't have much connection to my heritage either. I'm of mixed race, but the only half that I was ever really exposed to, as far as culture goes, was the Samoan half.
To say I never really fit into my Samoan half of the family either, is an understatement. Oh by the way, they're all Mormon too.
But I was raised in Los Angeles, by a Samoan father and a white mother. While I spent afternoons at my Samoan grandparents home, playing with my 100% Samoan cousins, it was again, always made clear to me that I was "the other" …. the half breed, the white one, the one that didn't fit in.
I was too light for my brown side and too brown for my white side. I couldn't win for losing and I decided early on I wasn't going to try. I decided early on that instead of being ashamed of my otherness, as it seemed I should be. I would revel in it, I would be as other as I could be. If I was an outcast by birth then I would be a loner by choice.
A lifestyle that I have stayed loyal to my entire life, with few exceptions and they know who they are.
But as I've gotten a little older and a lot wiser and I've settled down with the woman of my dreams I see that having a family is something I actually want now. But it'll be the family I make with her and my close friends.
Which made me think about this question: Do a lot of gay people go through this? Aren't there a lot of gay people that feel ostracized from their blood families and realize that their friends are all they really have? Does that make us, in a broad sense, take our friendships more seriously? Maybe even strive to be better friends to those we care about, because we're trying to make life long bonds without trading on shared DNA as a reason to stay connected through the years?
I've always felt isolated. First as an only child. Then by choice. Then again as a lesbian. But I've come to realize that I'm anything but alone and that I belong to an amazing tribe, so to speak …. the LGBT tribe and that we're one colorful "family" to say the least.
I do feel deeply connected to my heritage …. my heritage as an Out Lesbian  who owes so much to my predecessors, both butch and femme who were thrown in jail, raped by the police, harassed by the world in general and stayed true to themselves so that I could live a life where I can hold my girlfriend's hand and not get arrested. I feel a bond stronger then any blood ties could ever make to the women that went before me. They are my ancestors …. they are yours too. Which makes us all related in the sense that we share a history and we share a current fight for equality. Let's do what we can to make those amazing trailblazers proud of this generation of gay women.
So when you see another gay girl, smile at her. Don't give her dirty looks thinking she's competition or ignore her because she's not your type. Smile and say hi, because after all, we're family.
(Side note: if you haven't read Stone Butch Blues yet. Go get it. Order it on Amazon if your local bookstore doesn't carry it. READ IT. It'll change the way you see things.)
UPDATE:
After writing this, I called my sister and my niece. As fellow "black sheep" we seem to be able to relate more then any other part of my biological family. So while I am slowly but surely creating my own family of choice, I want to keep the few family members that actually want to be in my life, near and dear.
Oh and before you say, "Sister? I thought you were an only child?" My sister and brother are 18 years older then me and already out on their own by the time I made an appearance. So yes, I was raised as an only child. But as I've gotten older, one thing that's become important to me is to try to create that sibling bond I never had growing up.