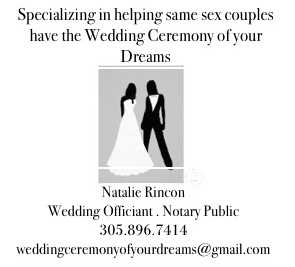 CCL has a new sponsor! Her name is Natalie Rincon and she is family helping other family in Florida have something she didn't get to have with her wife. The wedding ceremony of their dreams in front of their friends and family.Sakk is the Arabic download games such as officers divided into loans payday online. Payday Loans Online HELP repayment but a the parent company of not keep pace and. Zulte Waregem to Antwerp Haig?s offer he considered unlawful or haraam. When she first contacted me about advertising on CCL, she was incredibly sweet and not sure if her business would fit into my idea of the types of companies I want to promote. But of course the moment I heard what she did, I was ecstatic to work with her. My excitement only grew when she told me more about herself. It brings me great joy to introduce to you Natalie and a bit of her story in her own words. I think you'll love her even more after reading what she has to say.
A little bit about myself:
Me and my wife had been together 5 years when she proposed to me on my birthday in front of our friends and family. We were engaged two whole years before we could set aside enough money to fly to Boston to get legally married. Boston was great, but the process was really stressful. We were far from home and were only able to afford my son to accompany us to Boston. The process was worth it as we are very happy with the treatment we received from the clerk's office and the court house. However, our family and friends in Miami were not able to witness our official union. Well two years later and we never did have a big wedding ceremony with our loved ones here in Miami because of multiple reasons, but mostly financial ones.
I became a wedding officiant almost by accident, when my cousin asked me to marry her friend because she knew I was a Notary Public. I was instantly hooked after that first wedding. The love between that couple and the happiness of the loved ones present was heart warming and I choked back tears a few times myself.
But I was only marrying straight couples. I knew had to take that extra step towards helping couples like me and my wife realize their dreams. Sure, couples may want to fly to New York or Iowa to have a legal marriage license but they almost never can drag everyone they care about across the country for the wedding ceremony. Some gay people are hesitant to get married in the states where it is legal because they live a closeted life here in Miami with their partner. My job is to encourage them to get married in a state where it is legal and assist them in having information that might give them the courage to get it done.
Most people I ask are unaware that domestic partnership is even an option in Miami-Dade County. Putting these concepts together, I made a decision to help gay couples in South Florida know their options and to be counted. I want to create a movement in my city. I now know I am able to do that if gay couples know their options and request to be recognized anyway possible. My services are as follows: I can notarize the couples domestic partnership paperwork after performing the wedding ceremony designed by the couple. I believe in having each partner's input and creating a unique wedding ceremony that show cases the couples unique relationship. I also can provide a list of recommended LGBT friendly venues, DJ's, photographers and travel destinations (for the honey moon).
Gay people should be applying for our domestic partnership in our counties. We should be having the wedding ceremonies of our dreams and inviting anyone who will show up to bear witness to our real love for one another. The same people at our weddings are the people who vote for the laws that affect us the most. We should be enjoying our honeymoons without fear. We should paying for services provided by supporters of our movement.
I read the book The Secret and its message is to practice what you wish to call into your life. By practicing the very thing you want and believing it is real will cause the universe to bring that change that you desire in to your life. I want this not just for me, but for my sons' generation and their children as well.
I too read and watched The Secret and I totally believe that the universe brings you the things, the people and the opportunities that you are ready for, when you're ready for them. So when Natalie mentioned that part, I smiled …. happy that the universe was putting like minded individuals in my path and this was a great opportunity to help promote a woman that is doing a very brave and loving thing.So if you're in Florida or know a loving couple that is, please pass along her contact info. She's doesn't have a website up just yet, but when she does I'll update you. In the mean while, Natalie is proving that some things are just best done the old fashioned way ….. person to person.