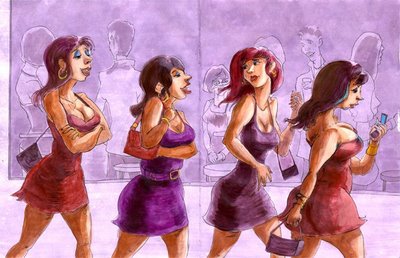 By Guest Writer, Effi Mai
Being dragged out by my many straight friends to a straight scene and having to act all straight is always somewhat vexing. I feel annoyed that it is taking up my evening, and disappointed at the prospect; the type of disappointment you feel when you get to the top of an escalator and realize you have to walk again.
So these are the hellish places. The if-you-look-a-tiny-bit-different-you'll-get-looked-down-on places. The I-can-show-off-more-skin-than-you-places. The places where I would welcome that bouncer with the mullet and spotty skin to put his fat arms around me and carry me the hell out of there. Because I may be put out in the alley in the cold but I will have way more fun. Because inside the amount of high heels, extensions and cleavage on show rivals a drag act and it's not nearly as fun.
But of course we had to go inside as it had 'Just Opened.' Just didn't make sense to the friends to go somewhere we loved and would be guaranteed a good night. And it was one of the worst clubs in Liverpool. Quite an achievement.
So at 11:32pm I found myself leaning against the bar, shooting tequila and catching up on emails and twitter. And I know I don't fit in. I know I stand out like a sore-big-red-swollen thumb looking glum in my blazer avoiding eye contact. I'd probably fit in more if I sat in the middle of the dance floor and colored in a picture of a clown with crayons.
I soon noticed that the barmaids take notice of two people. The tanned orange girls who are their friends in the outside world, and the more tanned orange boys who swagger up to the bar and wink at them. And I saw this and thought, well, female power and all that, there's no way that will work. Oh but it did. They actually went weak at the knees like they were part of some Jane-Austen-fainting-on-the-moors-type-story and poured them something that was on the house. And no amount of me waving my tenner at her would stop her using that cringey baby voice to talk to them.
By the time it hit 12:17 I felt like I'd been there a fortnight and the people-who-I-used-to-call-my-friends-before-they-brought-me-to-this-god-awful-place were nowhere to be seen. And it got so much worse. A girl came up to me, naturally off her face and demanded to know if my phone was glued to my hand. Irritated by being interrupted mid way through the tx conversation with a fit woman I turned to her and said yes. She then GRABBED THE PHONE off me and read the tx out loud.
So of course after seeing a few explicit words she then realized that I was one of the those lesbian things and dropped the phone, so it fell onto the floor and the back of it bounced across the diseased room. The stared at me, unblinking.
When Straight girls realize you're gay in my opinion, they do one of three things. One, they'll smile and say cool and ask about your life. Two, they'll smile and say cool but secretly they don't really know how to take you yet. Or three, they'll give a look like you've just asked for dead baby on toast and cover themselves up.
This girl took the latter approach and put her hands up to her boob-tube covered chest and took a step back. It's mental how some girls think that I will immediately want them. A reality check is definitely needed sometimes. Blah blah I don't fancy everyone of the same sex, not even slightly. Blah blah I'm not some sex crazed dyke who will go with any woman who comes up to me. I'm really really not that desperate. And if you're going to cover something up, cover your legs because that is what I'll be looking at.
When 2:01 hit the haze of the tequila kind of washed over the place and yet I still felt like I needed to slide my way across the dance floor and make my escape. The friends had returned and had brought girls-they-were-so-going-to-get-off-with back with them. The boob-covering-homophobe was one and she looked straight past me to ask if I lived with the boys. The relief in her face when they said no was like she'd just seen the negative sign on a seventh pregnancy test.
When 3:27 flashed up on my phone and I was allowed to go home I felt so high and free I felt like I could literally kick off the ground and fly home. Incidentally I went to the kebab two doors down and got a pizza so I think the carbs weighed me down.  My friends went home with their playthings and I got to go to my amazing non-judgemental lesbian flat. So apart from the homophobic-sexy-legs-girl, losing the back of my phone, my top getting soaked with beer, someone who dressed like a caretaker trying to chat me up, getting ignored at the bar and slipping in a pool of what I can only assume was vodka and sweat, it was a good night. Can't wait to see what's in store next week.