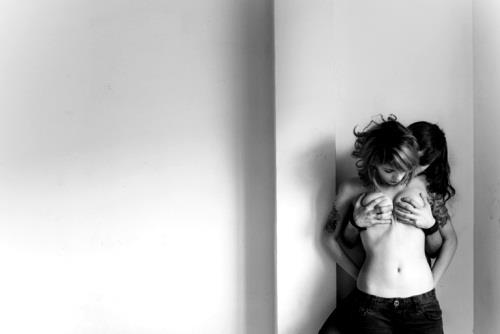 After that awkward girls day out with Zoe and S, I decided it was probably better to try to keep them apart. Which wasn't that difficult since Zoe lived 5 minutes from me in the South Bay and S was about a 45 minute drive, out in Hollywood.
S and I saw each other at least three times a week at the gym and on the weekends. While Zoe and I were together on the other days. So I pretty much alternated days between these two women. Which wasn't nearly as scandalous as it sounds since Zoe was "straight" and had a boyfriend and we were strictly platonic.
S and I on the other hand were getting more comfortable with one another and our flirting was starting to sound like promises of what we would one day do to one another. We both knew that it was only a matter of time before we took it to the next level. But this was my very first experience with a female, although it was unclear if I was S's first. She hinted to the possibility that she had been with at least one other girl before but would never flat out admit it.
I was starting to get anxious about our first time and would get lost in daydreams about what, when and how it would finally happen. In fact, it was my favorite way to pass the time in graduate school. I may have looked like I was paying attention to the professors but I was usually far away in my mind, playing out possible scenarios for how my first time with her would be like. Nothing would really prepare me for how it actually happened. But I should have known, looking back at what an exhibitionist she was that our first time was not going to be some private, romantic evening like I was envisioning.
It had been about two weeks since our little outing with Zoe and S and I had a little routine. We would meet at the gym at least an hour before class started, so that we could hang out together. Our hanging out sessions started with just grabbing a bite to eat and talking about our days but quickly progressed to long, intense making out sessions in the backseat of my car, while we were parked a block away from the gym. We would usually run into class, flushed and giggling.
Then one night, we had decided to stay for the late class. This class was usually the least crowded because most people didn't want to be there so late on a Friday night. But since we had plans to go to a club later that night in the area, it made sense for us to just stay and get ready there after class. This was a tiny gym, but very nice. So while the locker room was short on space, it had every amenity. Including a lovely sauna, private showers, blowdryers, every Aveda product a woman could want and an expansive selection of designer only perfumes. It was possible to completely forget your entire gym and cosmetic bag and still get ready for a hot date in this little locker room.
After class, we ran into the locker room expecting it to be practically deserted this evening. We were surprised there were still a few women hanging around but that didn't really matter. Out of the four showers, two were being used. So I stripped down and jumped into one of the free showers. I had been in there maybe all of three minutes when I heard the last shower, right next to me, start up. Figuring it was S I called out to her over the sound of the running water, "Class was pretty good tonight. I can already tell I'm going to feel it in the morning."
I was washing my hair and had my back turned to the curtain when I felt the cold air hit my body and two delicate hands wrapped themselves around me, cupping my breasts. I gasped from surprise for several reasons. First, I wasn't expecting anyone to join me and second, there were other women right on either side of us!
I turned half way to look at S and whispered, "What are you doing? There are people in here!"
She had her body pressed up against mine and the tiny shower stall only acted as an extra reason to be to close. She smiled and said, "Relax. The other showers were taken. I'm just conserving water."
— To Be Continued — :0