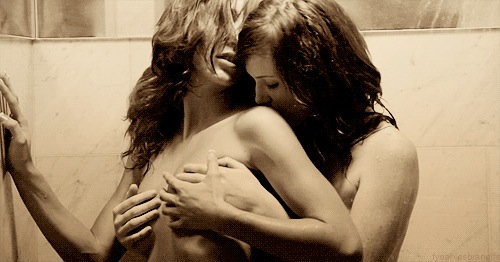 Without saying another word, she pressed her body up against mine from behind and I felt her lips on my neck, her tongue tracing a figure eight on my skin. With one hand still on my breast, her other slid down my body.
All rational thoughts ceased to exist inside my head at this time and all I could feel was the pleasure she was giving me and the contrast of the hot water hitting half of my body as I was pressed against the cold tile of the shower.
Time no longer made any sense to me as I was completely engulfed in the sensations that I was feeling for the very first time. This was the first time a woman had ever touched me like this. This was the first time a woman was ever inside me. I was just about to come when she stopped. I gasped from surprise and the sudden loss I felt when she moved her hand. But she quickly made it clear she wasn't done with me just yet.
She turned me around and pushed me back up against the tile wall. She kneeled down in front of me and this was when I lost control of myself. I no longer cared if there were other people in the locker room. I didn't care if they heard us, I didn't care if they saw us! It was all I could do to remain standing! My knees were threatening to give out on me and I could tell this only made her more excited. She looked up at me with an evil smile in her eyes and watched me intently as she gained complete control over me and my body.
In the last moments a small part of my brain shouted inside my head to at least attempt to muffle the moans that were surely escaping this tiny shower stall. But it was too late, she did something I had never felt before and I let go completely. Giving myself over totally to the all consuming ecstasy that was spreading over my body like hot melted butter.
As soon as I was done, she stood up, kissed me on the lips, smiled and said, "We better hurry up. Our friends will be waiting for us at the restaurant." And with that, she grabbed the shampoo and started washing her hair as if nothing earth shattering JUST happened between us.
I was stunned and delirious from just having the best orgasm of my life and the first real experience I had ever had with a woman. But I tried to play it cool and asked in a hushed voice, "I wonder what time it is?"
"It's almost ten" a voice from across the room answered. From the sound of it, the woman answering was by the sinks! It immediately hit both of us that if she heard a whisper from across the room, then for sure everyone had heard what had just happened.
We both started giggling and I said, "Oh my god!" Completely embarrassed, I didn't want to step out and face our audience.
Another voice from the shower right next to us said, "Thanks a lot girls, now I have to go home and have sex with my husband. Who I don't even like anymore. But if I don't I'll have lady blue balls after that."
At which point the entire locker room basically erupted into laughter. We got out of the shower and were greeted with huge smiles and raised eyebrows by the three women that were still there. Well, except for one woman who gave us the dirtiest look you could imagine. I shrugged it off and got ready to head out to meet up with our friends. I don't think I felt the floor beneath my feet for the next few hours, I was so high from the experience I could have floated away.
It almost seemed as if the remaining ladies were sticking around just to see how it all turned out, because only minutes after it was over, everyone else cleared out and we were left alone to get ready.
S slipped into this tiny little white, one shoulder dress that zipped up the back with 4-inch heels and I had brought along a backless leather halter top with matching mini skirt. Once we were sufficiently slutty looking, we headed out.
Outside, S said, "Let's just take my truck and leave your car here. You'll spend the night with me and I'll bring you back tomorrow."
She wanted me to spend the night with her!!! I was simultaneously freaking out and happy. Part of me wanted to throw up and just go home now. This was all moving too quickly for me. Or was it? I told myself it would have been worse if she didn't want me to stay the night. But I wasn't sure. I had serious intimacy issues and I didn't know if she wanted me to spend the night as her lesbian lover, or just as her friend after a long night of partying?
I guess I'd just have to see how the night unfolded….