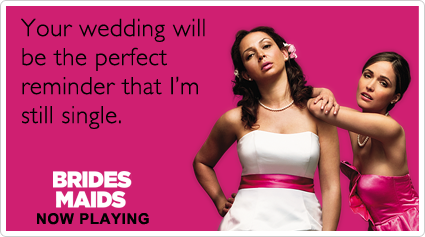 By Guest Writer, Effi Mai
Ah summer is starting to hit England and by this I mean it's warm enough to only wear one jumper, people are getting into their happy places. And as soon as the sun starts the shine, more people start to get to that crazy stage of getting married. I have four weddings to go in the next few months and already I feel like using some sort of mental excuse to get out of going like my house has burnt down, I've spilt jam down my bridesmaid dress or I've actually died.
So first of course when that dreaded invitation lands on your doormat, you have to make that don't-make-me-do-it decision. Are you going to check the box that says plus one, and spend the next few weeks scouring the streets to find someone nice,  suitable and equally as hot to take with you, or are you going to admit defeat straight away and tick the 'going alone' box. I chose the latter. And I can just imagine the friends seeing my RSVP and shaking their heads in pity that I'm going to mess up their seating arrangements,
The actual day I find, is like a parade for look-how-happy-we-are couples, all wearing matching bright colours, holding hands and gushing at how beautiful the wedding party looks. Then they will of course ask you the dreaded question 'So who did you bring?' and at this moment you really have to hold back from hurling red wine over their head. Nod, then shake your head, then laugh really loudly and then walk away. It's the safest thing to do and then you'll be left to it.
It's very easy to bitter. Why should they be happy? Why have they found each other. Why are they not out every night drinking family size cocktails by themselves? Even if this is the way you feel, you have to smile and act like you are so happy to be there. Because remember all the people who's weddings you go to, will be coming to yours. And you need them to be all sickingly-Disney-type happy for you on that day.
When it comes to the dinner, you will no doubt be put on the back table with all the other single people. Have a quick glance around to see if there's anyone to takes your fancy. In my case, not one of the eleven women did. There was one who reminded me of something out of Lord of the Rings, another who had a tattoo of a mermaid riding a dolphin on her neck and the last who spent the night talking to my tits and licking her lips. It was all very weird. Slightly like a hoarding pen for the Jeremy Kyle show. The good thing was, that no one pays attention to the back single table so you can eat as much cake as you like without being judged.
Of course, as is always the answer when I talk about being single, have some tequila. If you can find a nice comfortable seat at the bar, find a gorgeous bar tender to talk to then I'm sure surviving the day won't be as bad. Don't have a downing contest though with the bride's younger brother as you'll end up falling backwards off your stool. Having purple tequila down your dress and not really being able to talk without giggling can all look a bit silly.
My last word of advice would be NOT to catch the bouquet. You will never hear the end of it. And if you've had said tequila you may bash a lot of women out of the way to grab it. And then do a dance around the room to show it off. There's just no need. With that hangover all I wanted was to be left alone the next day and yet I was getting people chatting at me saying I had to be one who walked down the aisle next time. I felt the need to point out that they were talking to me while had knotted hair, I had slept in my dress, I had mascara down my face and some man's number scrawled along my arm. Maybe better luck at the next one.