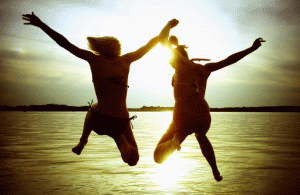 Yay! Remi FINALLY got a new work schedule that gives her regular work hours!! This might not sound like the biggest deal in the world but it is. Here, let me break this down in my world:
For the last year and some change, my wife's schedule has fluctuated wildly before settling down to 4:00 am start times for her with
mid week days off

. This meant she went to bed at 7:00 pm and got up at 2:30 am! And with a Tuesday and Wednesday off, forget hitting up the clubs with friends, or even dinner!
For more then a year!!
Now, I know lots of people have crazy work hours but how many of them have an insomniac, bipolar wife at home? Even if you don't have that particular burden, I'm sure anyone with these types of hours can testify way it lies ruin to your life outside of work.
People who know what they're talking about have repeatedly told me that sticking to a regular schedule is of the utmost importance. I hate to admit it, but after much trial and error, mostly error on my part. I have realized that there was some truth in that unwanted advice. Although I loathe routine on a basic, soul level …… I have come to the conclusion that a regular sleep schedule actually does wonders for me!! The rest of the day may be spontaneous but my sleep needs to be routine.
Which is no easy task for a girl with lifelong sleep issues. But made even more impossible when my wife's schedule was as messed up as its been for over a year. I tried to be the good wife though. I put on a smiley face, and knowing that this schedule was just as hard on her (or harder, since she was the one going to work!) I bucked up and made do. I did more then that, I told her it wasn't so bad and that we could find the positive in it! And I tried ….. I even managed to be productive on that schedule for a few months. But eventually, it took its toll. Especially lately.
After an epic manic episode lasting from December through February, where I became obsessed with hand stamped and resin jewelry – then bought a TON of it – figured it would be cheaper to make it myself (it's not btw) – taught myself how to make both mediums – opened a store and actually SOLD IT – effectively starting a new business! But since March, I've been struggling. It has felt like walking through quicksand and with every step, getting deeper and deeper into a depression.
I won't go too far into that, most of you know how debilitating depression can be when it takes hold. It even hurts on a physical level and friends don't understand why you're not hanging out, returning calls, etc. Let's just say, I've been in a funk and I don't think Remi's insane hours has been any help. In fact, I have been feeling really hopeless about it and guilty that I couldn't keep up with it.
But that is all about to be a thing of the past! In two weeks, she will start a new schedule where she actually works a 9 to 6 pm work day!! What does that mean to our personal life?? A lot!
It means we can go to bed together and wake up together. It means, I won't have to be banished to the living room every night before the sun even goes down. And she won't be leaving for work in the dark, saying goodbye to a sleeping wife. It means that I'll have  more time in the day to do my work, like writing and making new pieces. Because lately, I've felt like my days have been slipping away from me …. But with this new schedule, I feel hope again!
We can actually see friends again! Our social life has been non existent all this time, and friends have felt ignored, because we can never go out. We haven't been to club or out dancing, because when you go to bed at 7:00 pm, that sort of thing just isn't possible. Our sex life has taken a HUGE hit, because we're both ALWAYS tired and morning sex isn't really an option when your morning is 2:30 am and your wife is sound asleep.
Basically, her craptastic schedule has affected: our sex life, our relationship, our energy levels, our health, my bipolar disorder, our social life, made it impossible to make it to training at our fight gym (which really is one of my favorite things in the world), date night, and at least another ten things I'm forgetting right now. But yea, it's been hard to stay afloat.
I am literally counting down the days to the new schedule and looking forward to rejoining the world. Oh life, how I've missed you!!