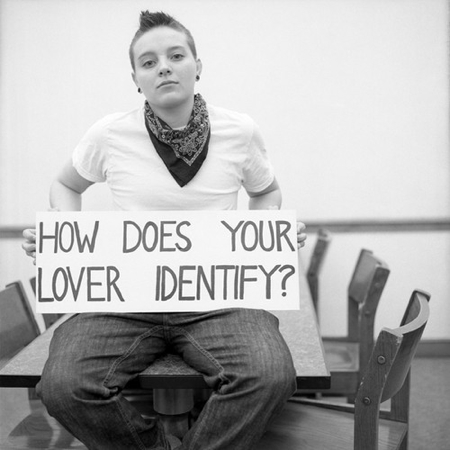 I found this picture online a while ago and was so struck by it, I just saved it. Of course, the first thing I thought was, "Damn, she's hot." But then, my brain actually allowed me to read the sign she was holding and thought, "I see a blog coming on!"
I mean really, does this  require any writing on my part? I think the picture says it all. "How does your lover identiify?" Butch? Femme? Lesbian? Queer? Bi? Straight? Label-free? Something new? Something better? Nothing at all? Futch? Stem? Come on, share!!!
But I also want to know, how YOU identify and how your lover's identity and yours play off one another?? Now that's where things get interesting. I love seeing how couples relate to one another and what attracts people to each other. Especially when the couple is something unexpected. I love when two people are madly into one another, but from just looking at them in a crowded room, you would never have guessed they would have anything to say to each other! Now that's hot. Thinking of how two drastically different, seemingly unmatched people, get it on, turns me on! Is that wrong?
Sorry, I digressed into my mental spank bank for a moment but I'm back now. So back to the topic at hand, how do you AND your lover identify? We all know my lover identifies as a tomboi. I ID as a femme. Together, we live happily within the butch/femme dynamic because that's what turns us both on and just feels right.
OK, your turn!