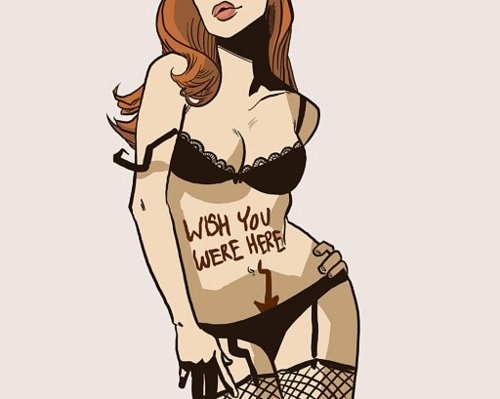 By Guest Butch, Raye
I have always hated dating. Even when I was newly out and in my twenties, I liked the attention I got from women but I was terrified to ask women out. I think it stems from the fact that when I did get bold enough (or drunk enough) to hit on a woman, it was always the wrong kind of woman. They were straight or game-playing bisexuals. High femme, heel wearing girly girl lesbians are hard to come by. And when they were shamelessly hitting on me, I noticed but I was not attracted to them. I literally had to hide from a woman who was chasing me one night (a story for another time.) Everyone has a type let's face it. Mine was bitchy, high maintenance, passionate, sexy women who embraced their make-up and heels and flaunted their femininity.
Most lesbians who call themselves femme are not the kind of femme I look for. I want high femme extremely girly girls. I can't speak for other butchies but I am butch because I was a 3 year old boi who fell for my uncle's stripper girlfriend Glenda, hook line and sinker. When she strutted in with her long black hair, long flashy eyelashes, long painted nails, bright red lipstick and wearing a fedora, trench coat and stripper boots with 5 inch stilettos. I maintain to this day that she was a femme in hiding. She LOVED me.
When they would show up for our dysfunctional family gatherings at holidays, she would actively seek me out from the crowd of grandkids playing in the backyard and cover me with lipstick kisses all over my face. I loved that girl and showed out for her whenever I could. I lived for the rare occasions I got to see her. I think she knew I was a little baby butch. She was a dancer and no stranger to queer life. But she was an angel of a person as well. Even after my uncle dumped her for someone younger and bitchier (whom I hated) she still sent Christmas cards to my grandma every year until Gran passed away. I maintain that she was the reason I went after high femmes. And lesbians who don't embrace that, don't get my attention. I like girls who like being girls and flaunt it. They are the yin to my yang so to speak… the beautiful, sexy, opposite energy to balance my raging masculinity.
So when I hear stories from femmes saying that butches don't reciprocate their attention, I am baffled. Maybe they are into butchies themselves. Maybe they are extremely shy or they don't want to be presumptuous and assume you are a lesbian especially in places outside of the gay community. People think we are predatory for much less. We don't wanna be seen as "the creepy guy" hitting on women with unwanted advances. Women so often voice their disgust at men's unwanted advances even to the point that straight women go to gay bars just so they can dance without having some creepy dude slobber all over them and we don't wanna be seen as THAT guy. We count ourselves a better option than men, we actively try to be better than any man who has wronged a woman and we don't want to be relegated to acting like them or being seen as the same.
That is why I find it funny that you compare your experiences with men hitting on you and how butchies react to you. Which is it? Do you like the butchies that act the way men treat you or do you want something different? Men are not subtle. Men are idiots who jump at the opportunity to get into a woman's pants if she shows the slightest bit of an opening. I am not a man. I am more selective, more cautious, more into you as a person than what you have to offer me in the bedroom. I want what you can offer in the bedroom but I want to know that you want me too. Rejection is painful for anyone. And women usually look at us with disdain as if we are creepy men trying to prey on them even lesbians look at us this way. People hiding behind their computers will tell you the truth about what they really think and really want. Take a look at dating sites and see how many high femme women seeking women will specifically say NO MEN, NO BUTCH, NO STUD in bold capital letters as if we are all the same thing. It is a disproportionate number I assure you. I have looked in different cities just to research if it is just mine. It isn't…
So of course we are going to be shocked that a femme has any interest and maybe even not trust it if we think she might.
I can only speak for myself but when I am single, if a femme makes eye contact with me in a lesbian bar and smiles, I fucking notice that shit and I smile back usually with a raised eyebrow and a smirk. If you see this look from me, you have garnered my attention and intrigue. If I make a point to make eye contact with you, and you turn your head without looking at me again, I will take that as a sign you are not interested and move on to the next woman. There is no place for shyness when picking someone up. You can be reserved, withholding and flirtatious which is sexy but if you are trying to act like I don't exist and not giving me any sign that you want me, I am not going to waste my time. If I did the same, you would be just as hurt. A smile and body language goes a long way. Lean into me. Let your attraction to me show through your eyes. You don't have to be all over me, in fact that turns me off. Eye contact is sexier than you know. Averting your eyes looks shifty and at the very least makes me think you are bored or disinterested in me. Eye contact in a verbal exchange is a direct challenge. It lets me read your thoughts behind your words and lets me know that you are trying to tell me something and that I should listen. I hear you when you speak to me with clear, direct eye contact.
If I make an effort to walk up to you in any setting, be it a bar or the grocery store and start a conversation with you, I am interested. Plain and simple.
It may be a dumb corny joke or it may be a question of your opinion on something, I am trying to let you know without scaring you off that I want to talk to you and I am looking for reasons to get your attention. Don't ignore that and don't play hard to get until you have indicated your interest first. I like hard to get when I know you want me but you are making me work for it. I don't like it when I have no idea if you are interested and you are trying to make me read your mind. Again it's that creepy guy thing I don't wanna be. I don't want to keep pushing you if you don't want me.
All that being said I have had my moments of pure duh. (I don't remember if I shared this story before on CCL but for the readers unfamiliar with my writing, I will save time by summing it up again here.) I used to be an assistant manager for Autozone at a high traffic store in Connecticut . And I kid you not this store had a high volume of hot women who would come in to the store looking for help with their cars. My boss used to come get me from the back room and point her out to me every time one came in. I was butch, in my twenties and single but I was professional about my job. I can't say the same about the men that worked for me. They took every chance they could get to hit on the women who came in. I didn't. In fact the guys on my crew would get so frustrated at me because 9 times out of 10 the women would make a beeline for me the moment they walked in the door. I was always respectful, helpful and spoke to them as intelligent adults instead of talking down to them about their cars. I am sure this is why. They probably felt more comfortable talking with a woman. Often we would be required to change a battery for a customer or windshield wipers or a bulb or something else equally simple.
True story, one day I was working on managerial duties like planograms behind the counter while my guys handled customers. I heard a female voice say, "Excuse me but can you tell me how I would go about getting a battery for my car?"
I glanced up from my work to see a very attractive redhead standing with another woman. My gaydar went off but I figured they were a couple.
So I smiled and said, "Well first you should come tell me what kind of car you have and I would look up the part number for you."
She then asked me if someone could assist her with installing it. I glanced at her more boyish friend and I said that I would get her battery for her and take it to the checkout so she could pay for it. Then I would take her friend out to her car and see what tools I would need to install it for her while she was there. She looked a little disappointed but she handed the other woman her keys. I walked out with the friend and saw a rainbow sticker on the trunk lid as I passed it walking to the hood of the car. I smiled, knowing that my gaydar was good even with this femme. I checked it out and came back in to grab the toolbox and carry her battery out to the car for her. After all, those things are heavy.
As I worked on the car, the girl began talking to her boyish friend rather loudly about how it was so hard to meet other lesbians at her college and how she was out to everyone in her dorm but could not seem to meet anyone. Now I assumed that she had been friends with this person for a long time since I had misjudged them as a couple and I found it rather strange that her friend did not already know about her dating woes but I listened and smiled as I hid behind the hood and worked. She popped her head around the hood, smiled and then leaned on the car to show me her cleavage and asked me if there was anything she could help me with or do for me.
I raised an eyebrow and almost laughed wondering what she could possibly do to help me install the car battery in her nice clothes and heels and smiled and said, "No thanks I am almost finished but I will need you to start the car to make sure the battery has a good charge."
She started the car and I closed the hood and collected my tools. She got out of the car and began to tell me how much she appreciated my help and how nice I had been. I smiled again, blushed and told her it was my pleasure and grabbed my toolbox to head inside. As I was walking away she called out across the parking lot, "It was nice to meet you!!"
I turned around and smiled yet again saying "Likewise!"
She looked utterly confused. I turned around and kept walking inside kicking myself for not being able to turn around and go back. I now realize that if she had been any more obvious she would have straddled me under the hood of the car. I don't have a clue why I was such a spaz. I kicked myself for it a long time after that and seriously contemplated using her phone number for the warranty to call her and ask her out but I thought that would be unethical and I figured by then she would have forgotten who I was. What a dolt. I blew it. The guys hounded me for months about the missed opportunity. Even THEY could see she wanted me. But all it takes for a guy to think a woman wants him is for her to look at him. I didn't want to be like the hound dog guys on my crew. But it was obvious. And I blew it.
I guess all that is to say, that you may be gorgeous and perfectly stating your case but we might still blow it. We want you, but the words just don't make it out because you are just too damned hot and we are temporarily… well retarded. Women do that to us from time to time. Anyhow if you wanted to hit on me in any setting, here is what you do. Come up to me with a smile and cheerfully say hello. Tell me your name. Ask me my name. Compliment me or comment on something I am doing or holding. Don't ask me for help with any type of task because I will think our conversation is functional. I will not assume you are hitting on me. Ask me my opinion on something you are about to buy and I will assume you are hitting on me. If you are wearing something rainbow, yes I will notice it but not all straight girls know what the rainbow means. Worst case scenario you could just ask me out or even tell me you are a femme and it is hard to meet butchies like me so you just wanted to come up and say hello and see if I would like a new friend.
Yes there are straight butches but they are more rare than high femme lesbians. It is not likely you are running into one of those. Don't be forward, just be honest and sweet and I will notice. If it was me, this is what I would want. There is plenty of time to play hard to get in the butch/femme mating dance. If you play it in the beginning, you likely will end up at a dead end faster than you know it. However, if you don't mind being the aggressor at first then you might just find the butch you want.
If none of this works then just chalk it up to the fact that the butch you thought you wanted is a weenie and probably couldn't handle your sexy self anyway. If I was single and a woman came up to me saying those things and I found her attractive I would definitely capitalize on it. Then you can play hard to get when I am trying to bed you down. There is no rule that just because you show a butchie that you are interested in getting to know them means you want to sleep with them. And just because you are a femme does not mean a butch will be attracted to you. Femmes flirt with and hit on me all the time whether I am single or attached but that does not mean I am interested in them either. They may just not be my type physically or spiritually. Just because femmes are rare does not mean I am so desperate that I will jump at the first femme who shows me interest either. I am a good catch too ya know. I am sure many butchies feel just like I do. And if they are desperate, then that's a mess you just don't want to touch.
If you are femme you are like a chameleon. You blend into the scenery as something you may not be. Sometimes you might just have to purposely change your colors to stand out and be noticed. And by that I don't mean change your physical appearance. But for fucks sake speak up and let a butchie know you are there! We notice the ones who do.