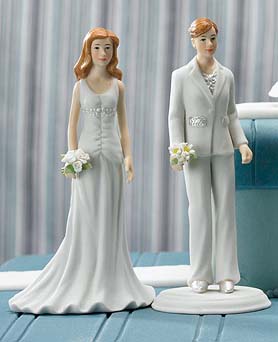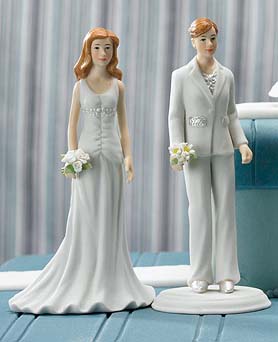 I remember when I was living the lie of a straight chick. Because I never really felt anything for any man I ever dated, other then mild disdain, I was the furthest thing from a desperate girlfriend any of them will ever know. In fact, I was so, take it or leave it, I always had the upper hand in every relationship. (All but my very first one.)
I would hear or see other women that wanted to get married so badly, they gave their men ultimatums or played mind games of varying degrees of madness. I always, ALWAYS thought to myself, "Ugh, how pathetic. Nothing more unattractive then a desperate woman. God lady, if he doesn't want you, take a hint and get the fuck out." I mean really, if somebody doesn't want to marry your ass, then take a hike and find someone that does.
Well, that was then and this is now. Now, I'm gay. Very gay and now I actually know what love and jealousy and desire is really all about. All of a sudden I've lost my cool facade and now I find myself being the jealous girlfriend, the co-dependent girlfriend, the day dreaming about engagement rings girlfriend.
Holy crap, would somebody please slap me!?
No. I'm serious.
Apparently being a lesbian in love has turned me into every sappy, stereo-typical girl I always despised. To make things worse, I have the stero-typical, commitment phobic boi-friend. After more then a year and half of living together in domestic bliss I was stupid enough to think …. to want …. to hope that maybe we were both on the same page about taking the next logical step.
Uh huh …. that step.
But I guess I was wrong.
So now I'm left wondering if this isn't something she wants, should I cut my losses and look for someone that wants the same thing?
Is this an age issue finally rearing it's ugly, yet inevitable head?
Should I just stay, because I love her more then anyone in my life and with or without anything legal, I love her?
But if this is something I really really want, am I cheating myself by staying with someone that may never want it?
What if she wants this years down the road, when she's my age? But by then, who knows? And how fair is that? I sit around for 7 years waiting for her to reach the level I'm already at? Nothing in life stays static, so there's a 100% chance that by then I either won't want it or I'll be so resentful of having to wait all those years, what we had would have had, would have been ruined long before then.
Fuck it, I guess that's why she doesn't mind an open relationship for Dinah Shore. Maybe I should learn how to take a hint.