The idea of a costume themed wedding really took hold in my imagination. I started brainstorming about how I could incorporate the feel of a costume party without letting it take over. Then the idea of a vintage themed wedding popped up.
I've always loved old cars, the glamour of old Hollywood, retro fashion and music from an era long gone. My mother used to joke when I was a little girl, that I was born too late.
The Roaring 20′s seemed like it might be a good time to channel for a lesbian wedding. Follow me on a little history tour, Sasha style:
The 20′s were big for us, ladies: On August 18, 1920, Tennessee became the last of 36 states needed to ratify the Nineteenth Amendment, granting women the right to vote. Equality at the polls marked a pivotal moment in the women's rights movement.
There was a backlash to all things stuffy and traditional. Including gender roles, sexuality and hemlines. The fashion rebelled against the old Victorian days and women had more freedom then ever.
Dance clubs were at an all time high. The Jazz era was in full *swing* and prohibition was making the speakeasy the place to be.
The 20′s was a time for gangsters, outlaws, feminists and queers. Drag Queens and Kings were popular acts at dance clubs and the closeted gay movie star wasn't so closeted at the time.
All of this made it seem like the Roaring 20′s might be the perfect theme for our wedding. But I would have to find a retro looking venue or decorate a blank space. Here were some of my ideas:
For the venue, I was thinking one of two things. If we have a blank space to decorate ourselves, we could make it into a speakeasy. Complete with bouncers and a password to get in. An old fashioned tup in the corner with bottles of "hooch" for favors and Big Band music.
Or …. we could find an already decorated venue. Like, oh … I don't know … the Queen Mary. Which for those that aren't local, it's the last survivor of the great ocean liners that sailed the North Atlantic for the first half of the twentieth century. It is now a haunted hotel, permanently docked in Long Beach. If we did it there, we wouldn't have to worry about decorating because the ship itself is like stepping back in time.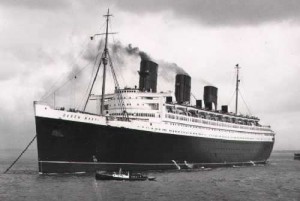 The Queen Mary has quickly worked it's way up my list of possibly, ideal locations. For many reasons, here look:
It's already decorated! They did a complete re-haul of the entire ship a few years ago, restoring it to it's former glory. So it definitely works with a vintage theme.
It's surprisingly affordable!
It's only 15 minutes from our house, which for a girl that hates to travel, that's a plus.
It's also a hotel, so we can still provide rooms for all of our out of town guests.
It's not just some boring banquet hall in some over-priced country club or hotel. It's a freakin' antique ship with a really cool history.
It's supposedly the 10th most haunted place in America. Which goes along perfectly with a near-Halloween wedding. See? I get to sneak in my Halloween thing after all!
It's on the water, which I love.
So I guess it sounds like the Queen Mary is our number one choice so far. But that's just the location. What about the rest?
As far as the fashion, I fell in love with the idea of dressing my Maid of Honor up in a cute flapper dress like one of this one. She's has a perfect figure and can literally pull off whatever dress I pick for her. Which is fun, she's like my little paper doll I get to dress up for the day!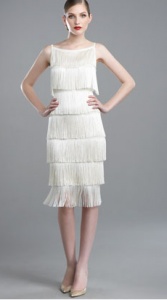 But then the fashion excitement dies down for me …. when it comes to my dress. Because the most popular styles of that era were most flattering to stick thin women. Even at the lowest weight, I'm still … well … curvy!!! I've got hips and D-cup cleavage and even when I'm at my thinnest (working on that) I never look "skinny." Try as I might

A coke-bottle figure it what I was  left with even when I was starving myself to a size 4 in college.  And while some old food "issues" have worked their way back up to the service, I've accepted that I'll never be a size 4 again. I don't even want to be.
I've always been a woman that believes in wearing what looks good on you and I know that the 20′s style wedding gowns, just won't give me that va-va-voom look I'm going for. See? Here's a 1920′s style wedding dress: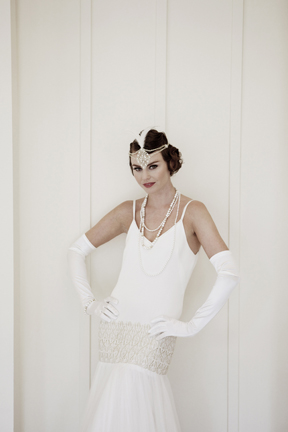 It's cute but it's not me.
While there is a lot to love about this idea, I'm not totally sold. What do you think? Personally, I love love love the Queen Mary as a possible venue. But the 20′s style dress just isn't giving me the sexy-wow-factor I'm wanting ….. hmmmmmm …….