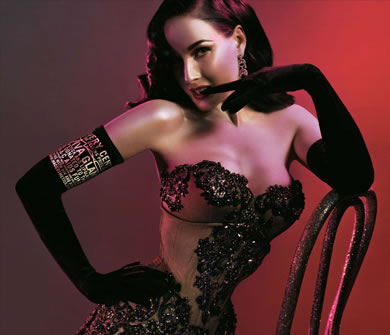 First of all, thank all of you who commented on my last blog. Even the ones that didn't approve of my ideas

I appreciate your honesty becuase it makes me ask myself those questions and really think about the "why" behind my decisions and actions. So for that, thank you.
A couple of the more conservative comments made me really want to defend my desire for having burlesque dancers at my wedding. So here we go:
Justa Notha wrote:
I've gotta say, although I think this idea is totally hot, I would seriously reconsider. Here's why:
A) I just went back and read your "Imaginary Tea Party" post, and if part of your idea in having this wedding is to legitimize your relationship in the eyes of your Mormon family, this is probably not the way to go.
And B) As the bride, you should be the center of attention at your wedding, not the hot dancing girls–unless you're planning on doing some hot sexy dance down the aisle that will upstage them all?
To which I say, you are correct. At one point I did want a more traditional ceremony to "prove something to someone" that our marriage deserved as much validity as any other. And if I were still trying to prove anything, I would agree with you.
But over the last couple of months of "being married" in secret and then finally telling people that we already signed the domestic partnership papers. It started to sink in, for both of us. The word "wife" started slipping out from between our lips before we even realized it. When before it would be something hard in our throats that caused us to pause while we momentarily choked on the word and all that it meant. It took a while for both of us to feel married. I started to worry that we wouldn't feel the realness of it until we said, "I DO" in front of an audience. As if their witnessing it somehow blessed it into reality.
Taking her last name didn't even feel real until I changed my name at my gym and started signing for packages as Mrs. Sasha Smith.

Yet somehow, over the months the reality of being married already just steadily and quietly snuck up on us.  It wasn't anything drastic. It was more like someone covering you with a warm blanket while you slept, because they noticed that your shoulder was uncovered. It had that soft, warm feeling to it. It was something we could snuggle up to and feel safer because of.
What I'm trying to say is that since we, for all intent and purposes are already "married" and we feel married, our wedding day is for pure enjoyment. We want to celebrate our love for each other with the people that mean the most to us. Yes, we'll still have a ceremony. We want that, we want to make our commitment in front of our friends and family. But then we want to party!
I no longer feel the need to "prove" anything to anyone. I got caught up, momentarily. But I'm back to myself and myself is a bit on the risque side.

Myself says "Bite me" and "Fuck off" A LOT. Myself wants a party to represent who we are to our friends and family and to give them a little piece of our personalities in a night that they'll never forget.
Crystal wrote:
Lol. I think you're confusing your actual wedding from your Bachelorette Party.
And there's a reason that people don't invite their families to their bachelorette parties. Awkward…
LOL!!! I can see your point. But like I mentioned in one of my comments, I don't believe any of my Mormon family will actually attend. Yes, I'm sending out invites, because I would love for them to make it. But come on people, let's be honest. One of my cousins went to a Prop 8 rally at the Mormon temple. And she wasn't on our side of the picket line. They're not coming to a lesbian wedding. They're welcome to, but I'm not delusional, no matter what you've heard.

I also realize I wasn't clear on the "no family" thing. I only meant my extended family. My mom, dad, sister and one aunt will be there for sure. And Remi's siblings as well. As far as it being "awkward"? It won't be! Let me explain ….
I come from a family of performers. Every kid, on both sides of my family are introduced to dance classes as soon as they can walk. We have all grown up in leotards and tights. We have ALL performed in various dance costumes, most of which are very tight and/or revealing. My father's side of the family started the very first Polynesian dance troupe to ever tour America. (They're still one of the best in the world.) My father himself performed on stage as a Polynesian dancer.
He's used to seeing women dance in close to nothing and he doesn't consider it "raunchy." He considers it art. As do I. Even belly dancing and burlesque dancing can be taken to the level of art when performed by trained dancers. Which is what I will be hiring. My dad is my biggest supporter in having burlesque and belly dancers at my wedding. In fact, the more out side the box this wedding is, the better in his eyes. He's always pushing me to be true to myself and to be an individual. In the eyes of my parents, this night won't be awkward, it'll be awesome that their daughter had the guts to do what I wanted, in spite of what others thought.
I take personal offense whenever people come down on dancers. I had to deal with that sort of prejudice all the time and I'm ashamed to say that's part of why I stopped dancing. I was tired of being thrown in with the hookers and strippers just because I was a dancer. But now, I'm older and wiser and think that even hookers and strippers deserve more respect then what they get! But that's another story.
Boxeadora wrote:
Why not do the burlesque part at the rehearsal dinner the night before the wedding? Not to be all heteronormative and all, but rehearsal dinners/stag parties are more often the events that showcase the more raunchy aspects of sexuality/physical attraction (which of course *is* the glue that holds the couple's relationship together/distinguishes it from "just friends"). WHy do you feel a need to "showcase just how gay [you] really are?" You're *two girls* who are getting fucking *married*–it doesn't get much more gay than that, honey! The event is already not "too traditional."

And for whom would you be "showcasing"? OK, I'm going to risk getting flamed here. And I say this as a big fan of your blog (it's helped me to grow and become more self-aware in my queerness) and with much love: Why do you need to "showcase" anything other than your love for each other? From my vantage point (and, admittedly, I am a bit older than most of the blog's writers and readers) this "showcasing" explanation strikes me as a little, well, immature. *Cringe. Ducks in readiness for flaming spears.*

Your friends are likely the ones who would most enjoy the lap dances (and hey, I'm no prude: how do I get on the guestl ist for this homo-sexiness? . Although I can imagine that some brothers, cousins, even dads might also enjoy it, but this "showcasing" isn't supposed to be for a het male gaze anyway, right? So why not have the go-go dancers in a smaller venue, the night before, with a smaller more select crowd that "gets it"? Just my two cents.

I think that, in the years ahead, you might appreciate how you extended your celebration over two days instead of just one, and have pleasant memories of two events marking your union that were of significantly different character.
Well let me give my side of things ….. I don't feel the need to showcase anything. I want to showcase something! I'm a creative person and I love the chance to get to show our friends a little bit of our personalities in an unconventional wedding. Sure, it's unconventional from the get go with two women getting hitched. But why stop there?!
I can appreciate a beautiful, traditional wedding. Good Lord, I've been addicted to Four Weddings and Say Yes to the Dress for months now. Obsessed really. But I see a lot of cookie cutter weddings and I don't believe it has to be that way.
I can understand, from my last blog where I mentioned lap dances and pasties that some might cringe at the thought. But that was just me being a little excited. I actually plan on asking the dancers to keep it classy and to not get down to pasties. I think they're sexy as hell in their costumes and I will ask them to keep them on. But here we go again, they're NOT strippers and assuming that I have to ask them to keep their clothes on is probably not even fair.
In closing, you asked if in the years ahead I might not regret doing this? I can honestly and with conviction tell you and anyone that wants to know, that in the years ahead, the only regret I'll have is if I didn't follow my heart but instead allowed naysayers to push me into a box. No I won't regret it if we have gorgeous dancers there. Twenty years from now I'll still be smiling whenever we think about it because we stayed true to who we are.