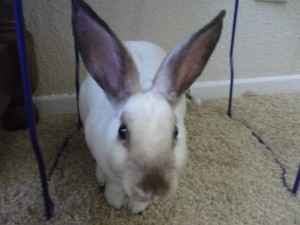 By Guest Writer, RadDyke
Hey there CCL!
Yup, you guessed it…I'm guest writing here now! Those of you who know me already, hello! Those of you who don't, hang on tight…you're about to!
I want to make this intro short and sweet: I'm RadDyke, and I'm pleased to meet you all! Not that short? Too sweet? Second try.
Hi CCL readers! I'm RadDyke from Mighty Ms.  and I have come to join the prestigious ranks of guest butches (and of course, the incredible femmes who write here as well) to bring you dyke life as I know it. A little background on me; I'm a 20-something grad student living in one of the most awesomely queer cities in the US. Originally from the east coast, I migrated South after college to follow love, school, and acquire a bunny (yes, that's her in the picture).
Compared to many of you, I'm relatively new to queer life, and I have a rather unique perception of what it is to be queer and inhabit the spaces that I do. Those of you who read my blog know that I do identify as butch, and yes, I do have hair down to my boobs. For those of you who have never met a long-haired butch, hello! My experiences as butch and my perceptions of gender are different than that of most butch women, and I am excited to get to share a bit of my life with you. Some of what I say will probably be pretty controversial (okay, I love being the one to stir the pot…most of what I say will probably inspire some healthy discussion), but I do hope that I can put forth my views here and hopefully learn from all of you as well.
Aside from writing, I enjoy playing with my bunny (she's the number one girl in my life….and my girlfriend knows it), playing board games, and reading anything and everything I can find. I consider myself to be a radical socialist queer feminist, and I hope to have some fun with identity and queer life in general in future posts.