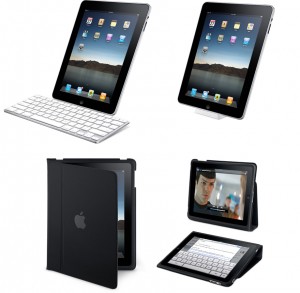 Have I mentioned that I'm slightly obsessed with Apple's new iPad?
For anyone living under a technological rock, it's Apple's new tablet computer. Not to down play it or anything, but it's sort of like and over-sized iPod touch. Which yes, I do already have and is the only reason I'm barely able to contain myself from buying the iPad right now.
Let me warn you right now: this blog is where I let my inner geek flag fly, so if you're not into techie toys, this blog may not be for you.
At first I thought that I didn't need or want the iPad. After all, I'm home most days in front of my laptop and the few times I am out of the house, I have my trusty iPod touch to fill in the gaps if I feel a blog coming on or need to get online while at a coffee shop.
But then I touched one. I felt it's beautiful lines, it's beautiful interface, it's slightly curved back that just feels so natural in your embrace …. and then it happened …. I typed on it's touchscreen keyboard and I fell in love.
Yes, in emergencies I have banged out a blog on my ipod touch, using only my index finger to type with and allowing my typos to be replaced automatically with words that make no sense at all but sounded right to my iPod.
And yes, I barely get out of the house enough to make it worth the $700 price tag so that I can write a blog on the fly, with more comfort and ease.
But … and here's where my creative mind fills in the gaps of logic, making it a perfectly reasonable purchase: Perhaps if I had the iPad and were able to write from anywhere, I might use that as an excuse to get my lame ass out of the house more often by myself. I envisioned myself at my favorite gay coffee house, people watching and getting inspired  by the ambience and energy. Then turning my attention to my new iPad and furiously typing away some of the best blogs EVER!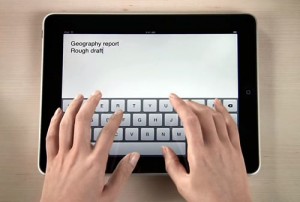 Yep, that's all that was standing in my way of being more social, more productive, a better writer, a better friend, Wonder Woman! An iPad would magically transform my life into a never ending adventure where I would throw my iPad into my messenger bag and head out, day after day, in search of inspiration beyond the four walls of our little house. The iPad became the answer to all of life's problems and I told Remi how much I had to have one.
Being the amazing girlfriend that she is, basically gave in right away and said, "OK babe, we'll get you an iPad."
But it's still $700. That's a lot of money for a 1st generation product. Remember the iPhones? It took a few generations for them to get the kinks out. Or as our friend Amazon put it when I asked her advice, "To unfuck it."
Same thing again with the iPod Touch. I waited till the 3rd generation to feel comfortable enough that they had tweaked it sufficiently that I wouldn't regret my purchase in 4 months.
So while I do realize that the iPad will not, in fact turn me into Wonder Woman and create world peace. I do still think it would be a fun thing to have and if I made myself go out a few times a week and write somewhere new, I think that would be good for me.
However, I have decided …. I think …. to try to wait this cycle out and wait for the 2nd gen iPad to make it's debut.
What do you think? I know I'm not the only Mac Girl or nerd out there. I've already read all the internet chatter about a possible camera, bla bla bla … I don't really care about that. I want it to WRITE on. That's it.
Maybe I should just say, "Fuckit" and go get it. After all, I don't really think that any of the possible upgrades are going to be anything I really care about. But then it's just sort of the principle of the matter. Getting more bang for Remi's buck.
What's your take on it? Please tell me I'm not the only one this into all things Mac?
Ughhh … I probably am the only super nerdo that dreams about all the awesome powers only an iPad can bring …. and then there are all the accessories too! You know, like a case and a cape …..