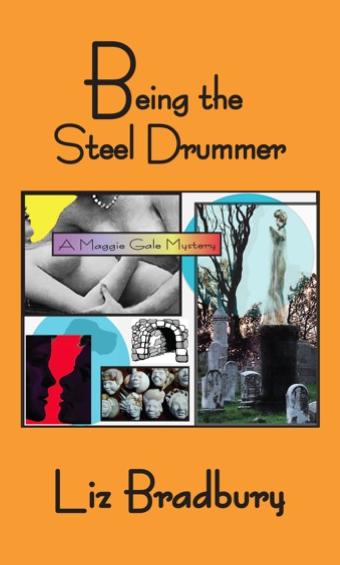 Latest Lesbian Book On My Nightstand
Detective Maggie Gale is back and she's on the verge of saying – I love you – to her beautiful live-in "inamorata", college professor Kathryn Anthony, but first Maggie has to solve a murder in the local civil war era cemetery.

When Maggie finds an old journal detailing a hot romance between two 19th century women who lived right in her neighborhood, she works to find the connection between what's happening in the present to the tragedy that drove the two women apart 140 years ago. A ghostly figure, secret passages, valuable treasure, and trying to find the intimate key to trust and commitment in their relationship all challenge P.I. Maggie Gale and Dr. Kathryn Anthony in this exciting second book in the Maggie Gale Mystery Series. Don't miss this sexy new novel by critically acclaimed author Liz Bradbury, it's sure to entertain lovers of both mystery and romance!
That was a little bit about the book I'm reading right now, Being the Steel Drummer, by Liz Bradbury. One thing I noticed within the first two pages of reading this book was that it was probably one of the most intelligent books, I've read within the genre in a long time. By that I mean, the author doesn't "dumb it down" for the reader. It's written by an intellectual woman for other, like minded women.
I have often sat in the "lesbian section" of Barnes and Noble, flipping through every book on the shelf. Only to be instantly disappointed by the caliber of writing. I wonder how some of these books get published and feel really discouraged about the seeming lack of quality writing within the genre.
So imagine my more then pleasant surprise as I started reading Bradbury's latest contribution to the lesbian book genre. It has a bit for everyone: romance, mystery, more lesbian characters then just the main one or two characters. She builds an entire world for you that's very authentic for an out lesbian to be living in. I appreciate the way the supporting characters come alive within the first few pages and I can relate to knowing people like the ones she creates for us in the world of Maggie Gale.
I haven't quite finished the book yet. Mostly because I'm enjoying the story and don't need to rush through it. However, I found out after already starting this one that it's actually the second in a series!! Luckily they stand on their own as independent novels. But if you want to read them in order, check out her other book as well, Angel Food and Devil Dogs. Which was a finalist in both the mystery and debut author categories for the Golden Crown Literary Awards!!!
You can definitely expect to read some future reviews on here about her other book. I'm a fan and will keep you guys in the know about Liz Bradbury, a lesbian author to take note of.