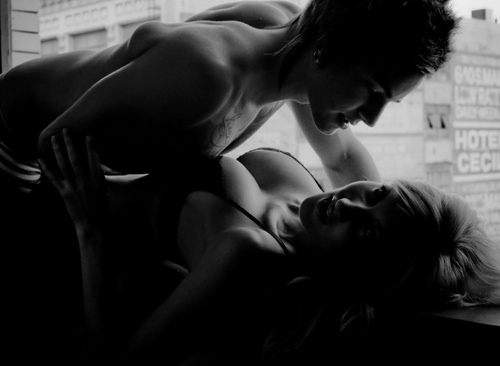 By guest blogger, WWG
This blog post is going to get me into miles of trouble. I know this in my heart before I even send it to Sasha. I wrote something similar previously and then rescinded it. But I need to get it out there. And I've thickened my skin to take on whatever arrows come my way, and I know there will be plenty, many very well deserved. I am, afterall, sharing my ignorance and confusion in a highly public forum for all to judge and question. It is a role I took on willingly, and therefore, I take on the results of it willingly as well.
I am a lesbian. I've detailed on here the only a portion of the struggles I've been through to get to the point where I can not only say that to myself in my head, but to my family, to my friends, and more and more, to the world. But I think it's been shown even in the bits I have written about it, my struggle to become comfortable with this identity has been a huge thread in my life, through which I went through a lot of trials and tribulations and difficult times. I finally have come to the understanding that I am not a woman built for men, and I am finally (mostly) okay with that.
I've also been very frank about my attraction to androgynous and butch women. And this is where my issue lies. Tonight I was on a dating site, and as I scrolled through the list of women, I found several I thought were cute. And of those, as I read their profiles, a few of them made mention of preferring male pronouns. And then I read another site tonight wherein someone else who had always said they were adamantly butch mentioned trans thoughts. It was not a surprise really, but it somewhat was.
When I first came out so many years ago, trans wasn't even a topic. I knew of one person online who was trans, and already was a man, and frankly, I didn't think about it too much either way other than to vaguely wonder the typical questions, mostly about sex (I was 22 – EVERYTHING was about sex then). But back then, I could find lots of hot butch and androgynous women with ease, even if I was confused about my attraction to women.
I came out again after so many years because I finally realized that it is the interplay of masculine and feminine energies that gets my engines roaring and that men, with their solely masculine energy, felt too distant and uncomfortable for me. Their bodies were flat, other than the lightswitch between their legs. I shied away from their touch and attempts to get me to care for them as more than friends was futile. I may be attracted in part to the masculine energy, but I adamantly and absolutely need feminine energy in my love life as well. I mean, boobs. They're awesome! I love them. And pussy is hot. I am a woman, I know women are rarely comfortable in our own bodies, myself included at times. But is it wrong of me to want a woman who enjoys her breasts as much as I do? Who will allow me to pleasure her?
To quote the actress Skyler Cooper: "I love butch women for what they represent. Unfortunately, I believe butch woman have not been properly understood. There are hordes of stereotypes about them in the media and our communities that don't represent what I call butch. With that said, this is what I love about butch women: they have a natural marrying of masculinity and femininity in a woman's body. It's the essence of the two genders carried by a woman. It's spectacular to see. A pure anomaly of nature. …"
Precisely.
The woman I was smitten with who dumped me, whenever people saw her picture, they would always respond "she looks like a boy!" Yes, her body had a masculinity to it, and no, she wasn't girly by any stretch of the imagination, but she was most definitely a woman with a lot of feminine and soft energy as well. She had the essence of the two genders within her, and I found that mix a heady and intoxicating perfume which made me crave her like no other. I loved that so much. Shortly after our relationship, I met what I thought was a super cute butch woman, only to be corrected that he was a transman, which was part of what caused me to write the post the first time around. There were other issues which kept us from moving forward, but I will absolutely admit that the idea of dating a male-pronouned person threw me, and hard. How do I, as a lesbian – a woman who is sexually attracted only to women – date someone who views themselves as male and would want me to view them as male too? Their gender goes directly against my orientation! And yes, I know as someone who dated men previously, I should be more open and open-minded. Perhaps this is the pendulum of the "convert" (I loathe that word in reference to LGBT stories) swinging hard from one way to the other and at some point will find its own happy medium. Perhaps.
But I won't lie – part of me feels abandoned by this trans revolution. Do NOT misunderstand me. As I've found the peace in my own skin by coming out as a lesbian, I too want others to find peace in their skin, whether it be orienation, gender, or anything else. That happiness is priceless and belongs to no one but ourselves and I support seeking that out 1,000,000%. As I've become comfortable with my identity, my life has opened up in ways I could never have previously imagined. It feels good, and I do want everyone to have access to that feeling. But that is precisely why I'm having so many issues and wanted to write this blog. I want a girlfriend and one day, I want a wife. I want to be able to say female pronouns when referring to the one I love so people know that I am most definitely a gay woman. I fought so hard to get male pronouns out of my love life that I'd feel like a giant hypocrite by saying "my boyfriend." Or as my diamond-in-the-rough best straight guy friend said when I was talking to him about the transguy mentioned above – "but that's a dude?! I don't care what's between his legs – that's a dude. Why would you want a dude?"
I don't. I can't, as a lesbian woman, be comfortable with a man in my lovelife, regardless of how he started out life or what gender he was assigned at birth. The lover in me cannot acknowledge him as and treat him as a man, and to do otherwise would be extraordinarily disrespectful. I can give respect, I can give admiration, adoration, and much kudos to men, but I simply am not capable of loving one. Were this possible, I would define myself as bisexual, and I would have married one of the great guys who tried so hard to capture me in the past.
And this is where I, as a butch and androgynous-loving woman, a lesbian, am finding myself at a crossroads of confusion.
Well, I told you all it would get me into trouble. Go ahead, have at me.