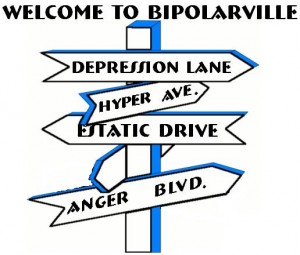 OK, so I lied. The quiz isn't specifically for lesbians. But a lesbian wrote to me asking about this and most likely lesbians will read this. I don't think there is actually a quiz specifically for lesbians with bipolar disorder, but we can pretend for the hell of it. Because really, wouldn't it be nice if everything in the world had a "gay" version of it? I think so.
Anyways, on to the seriousness:
Dear Sasha,
How do I know if I'm bipolar or just depressed? My mother is bipolar and reading your blog has made be wonder if maybe I am too? Any advice?
Sincerely,
Worried about heredity
Dear Worried,
First off let me start with all the disclaimer crap. I am not a medical professional so please contact your doctor if you feel that you may have Bipolar disorder. The test I am going to share with you is by no means meant to take the place of medical advice. But I would urge you to take this test or any other online test for bipolar (just google it), print it out and take it with you to your doctor.
I found the following test by googling "bipolar disorder test." So please, don't depend on this one. Do a little or a lot of research for yourself and please seek some kind of professional help.
I. Has there ever been a period of time when you were not your usual self and…
1. …you felt so good or so hyper that other people thought you were not your normal self or you were so hyper that you got into trouble?
Yes
No
2. …you were so irritable that you shouted at people or started fights or arguments?
Yes
No
3. …you felt much more self-confident than usual?
Yes
No
4. …you got much less sleep than usual and found you didn't really miss it?
Yes
No
5. …you were much more talkative or spoke much faster than usual?
Yes
No
6. …thoughts raced through your head or you couldn't slow your mind down?
Yes
No
7. …you were so easily distracted by things around you that you had trouble concentrating or staying on track?
Yes
No
8. …you had much more energy than usual?
Yes
No
9. …you were much more active or did many more things than usual?
Yes
No
10. …you were much more social or outgoing than usual, for example, you telephoned friends in the middle of the night?
Yes
No
11. …you were much more interested in sex than usual?
Yes
No
12. …you did things that were unusual for you or that other people might have thought were excessive, foolish, or risky?
Yes
No
13. …spending money got you or your family into trouble?
Yes
No
II. If you checked YES to more than one of the above, have several of these ever happened during the same period of time?
Yes
No
III. How much of a problem did any of these cause you – like being unable to work; having family, money or legal troubles; getting into arguments or fights?
No Problem
Minor Problem
Moderate Problem
Serious Problem
IV. Have any of your blood relatives had bipolar disorder ("manic-depression")?
Yes
No
V. Has a health professional ever told you that you have manic depressive illness or bipolar disorder?
Yes
No
---
If you answered "YES" to 7 or more items in section I, and….
if you answered "YES" to question II, and….
answered "moderate" or "serious" problems for question III
then this is considered a positive screen for Bipolar Disorder, and further evaluation by a mental health professional is strongly recommended. This free online Bipolar test is a commonly used initial assessment tool. Other causes of your symptoms will have to be ruled out before a diagnosis can be accurately made. Your therapist or psychiatrist may choose to use an additional bipolar test, and should conduct a full diagnostic interview. The bipolar test is also more accurate when close family or friends can offer accurate history and observations of your behavior.