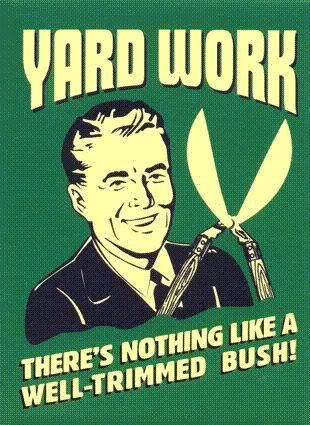 Since Remi moved in, the issue of household chores has gone through some sort of slow yet progressive evolution. In the beginning, I felt like she was a houseguest, so I did all the housework, her laundry and cooking. A few months into it and she lost her houseguest status and became a full fledged member of the family so to speak.
What she lost in rank, she gained in responsibilities. I figured since she's the one that goes off every day to a grueling 9 to 5, I could still manage the bulk of the household duties. But I gave her my least favorite things to do: yard work, the floors and one bathroom. All of which could be done one lousy day a week. My chores on the other hand are like living in a perpetual loop of dirty laundry, dirty dishes, dirty everything that seems to NEVER stay clean long enough for me to feel like I'm making any headway!
So while she can get away with doing all her little things in a few hours once a week, I'm  left doing the same list of chores every day for the first few hours of my day. Hey, I work too! Albeit from home, so my commute consists of walking from the bed to my desk after a suitable amount of time spent enjoying my morning coffee. But still, I do work.
Yet somehow I always tend to feel like my work is so much less important then hers because my day can be pushed around to accommodate her laundry. Hmph. The fact that she has a regular paycheck and a strict schedule compared to my schedule of "write when my mind is clear or the muse of inspiration hits me upside the head" and a paycheck that is less then what I used to bring home as a biofeedback practitioner in a single week can definitely test a girl's self-esteem.
All of this would still be somewhat more palatable if Remi actually did any of her chores when she was supposed to, which lets review: is only ONCE  A  WEEK. Suffice it to say, the bulk of Remi's chores don't get done much more then once a month, unless she senses a storm coming and by storm I mean a torrent of frustration coupled with some bitterness on my part and she'll kick into high gear. Doing not just her chores, but some of mine as well.
While it may seem like I'm complaining, I am not. I am simply proving a point. That gay relationships have the same, dumb problems that straight ones have. I'm a little tired of hearing all the straight chicks I know compare their lame husbands to my awesome girlfriend.
Yes, it's true. It is better, cooler, more satisfying, incredibly chic and just downright awesome being a lesbian. However …. unfortunately, that does not make us exempt from the totally mundane issues that arise from living with your significant other.
You should know, in all fairness, as I write this that Remi is out in the front yard trimming trees and making a lot of noise. Probably to make sure I remember she's out there doing the stuff I hate to do. Don't worry, I'll make it worth her when the time is right. Because just like her straight, male counterpart she too likes to be generously rewarded for doing what she was SUPPOSED to be doing all along.
But unlike her penis-cursed counterpart, she actually knows how to get the job done right and not just in the yard.

So to my straight girlfriends, it's true: It is BETTER being a lesbian, but there will still be those awful moments when you hear the nagging voice of your mother coming out of YOUR mouth. Then you know it's time to stop, take a breath and remember: You are not your mother. You are a lesbian and lesbians don't nag.