It has been far too long since I've written. My lack of writing was starting to feel like a prison sentence and I was willing to do anything to get out on parole. I just really NEEDED to write something. But for the last month or so, my thoughts have been jumbled. They were racing each other and stumbling over one another. I couldn't make them out. It was all a blur.
When I try to put my finger on the trigger of my writer's block, I can point to a few culprits. Remi's schedule was thrown into chaos for a few weeks due to her being the youngest one in her position. When someone with more time on the job wants a vacation, guess who gets stuck covering their hours? I never wanted to believe that bipolar people NEEDED a strict schedule to stay feeling healthy. But apparently we do. Or at least I do. I think I always fought against that one little thing because part of me hates schedules and commitments and monotony and well …. a set time schedule 7 days a week pretty much checked every one of those little boxes! But now she's back to her normal 9 to 6 and I'm feeling better already!
Then there's always just the ebb and flow of bipolarity. It is a cycle so it's unfair for me to blame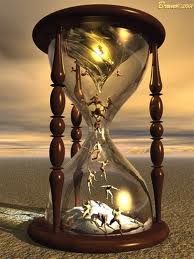 any outside influence on my shifting moods. I feel very much like the sands in an hourglass. When I'm in the top portion of it I feel great, but even then I can feel myself slowly slipping into the bottom. Until I'm falling without hesitation, quicker and quicker into the bottom. And then once I'm there, I wonder if anything or anyone will ever be able to turn me over so that I can start again. It was like this last time, I felt utterly inept at helping myself. The days were just passing me by. I would sleep 14 hours and not care about waking up. Telling myself, "What's the point? It's not like you have anything important to do." So I would roll over and try to sleep until Remi got home. Pathetic, I know.
There have been a few other things bothering me lately, but I hesitate to give voice to them on here, lest it only feeds the problem with energy and attention. Which this sort of thing needs to stay alive. I have been counseled by experts in this to let it die alone in a shadow, starved for attention. So that is what I will do. But I will say that it was something that shook me and I would be lying if I didn't say it caused me to withdraw from the public for a while. Seeking the safety and shelter of solitude.
But it has been long enough and I now feel renewed and ready to take on the world! My recovery however is not at all due to anything I did. My well-being today is 1000% due to Remi. But I'll save that for the next post.

But I will say that having a wife or partner that listens to you, can be a life saver. And I thought she wasn't hearing me, but now I know, she hears everything I tell her, it was me that wasn't paying attention.