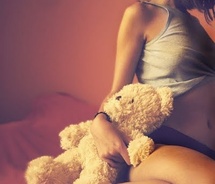 By Guest Writer, Effi Mai
Being single does have its perks. The living arrangements can be one of them. The living alone thing can have it's up and it's down. These points are the ups of being free to do what I want, free of makeup and if I so desire, free of clothes.
Yes curling up in bed with someone after a long day is nice, but I have my teddy to do that, and the teddy doesn't roll around and kick me once it falls asleep. And of course if you live with someone there's sex on tap available. But I have brightly colored whirring moving toys that can do that job that won't complain that it's their turn or want to cuddle afterwards.
You have the freedom to do anything. If I want to watch the same episode of  L Word over and over while drinking wine from the bottle and eat candyfloss for breakfast there's no one around to judge me. Or give me that tilting-their-head-pity look.
My flat also looks exactly how I want it. It's girly, pink and looks like Cath Kitson has thrown up in it. But I love it. I have a lovely expensive couch which I can sprawl out on and fall asleep on if I wish, fairy lights around the place because they make me happy and one wall covered in writing notes, ideas and random scribbles (and a picture of a cock which I drew when I was drunk just to see if I really knew what one looked like) (FYI I didn't, it looks like a machine gun).
Oh and the haven of all people living on their own. The shining beacon of light that leads you towards the bathroom. And it's not just a bathroom; it's an always empty bathroom. There's no pacing around the flat trying to think of anything except the pictures of running water that are flashing through your mind because you desperately need to go. You're free to take showers whenever you want, for as long as you want, and sing Katy Perry as loudly as you want.
The best ever beats-everything-else reason to live by yourself is that if you had flatmates, the had-a-bad-one-night-stand-morning after would be a lot worse. Now, it is simply 1. Remove arm from under sleeping person. 2. Vow never to drink tequila again because I'm thinking how could I pull an uglier girl and 3. Throw something at her and say 'Ok, there's the front door, please vacate'. I can't even imagine the looks, the comments and the shaking of the head that I would get if I lived with someone else.
So for the time being I will enjoy padding around in my knickers and vest with my hair in curlers, toothpaste covering my face to dry out the spots, and singing along to Celine Dion pretending she's singing about me, because, well I can.