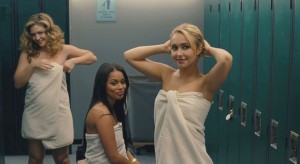 The following story was submitted by one of you! You might recognize her from the comment section …. please enjoy Kenda's first story for CCL. Hopefully it won't be her last.

It was my senior year of high school.  I had just turned 18 and was one of the more popular girls; pretty enough to fit in with long, blonde hair and a great body, if I may say so myself.  Like a lot of pretty girls, I was privileged and I knew it.
There was this one girl me and my friends used to laugh about.  She was different, like a guy.  Good lord, that girl wasn't graceful at all and she didn't know how to dress.  We all thought she was one of those girls…one of those lesbians.  She really bothered me.  I didn't know why, but it was hard for me to be nice to her.  Actually, I was kind of a brat and didn't care whether I was nice to her or not, but I found myself being extra rude when I didn't set out to be.  It was like I was pushing her.  She actually was kind of cute, looks-wise.  I just didn't like the way she dressed like a guy.  And there was something steady about her – I couldn't quite put my finger on it.  Like she couldn't be shaken.  She wouldn't look at me (at least not when I'd see her), but she wouldn't avoid me either, like other less-popular girls would.  It's like she held her space.  Yeah, she had her friends.  Mostly basketball types, though.  Girls like her.
It was a hot spring day in April and we'd worked up a sweat playing soccer for P.E.  It was the last class of the day.  A few of the sporty girls stayed on the field afterward.  My friends had hurried through their showers as they were going to some after-school activity.  I wasn't in any rush to get out of there, because I didn't have any particular place to be that day, so I took an extra-long shower.  I thought everybody had gone, until I heard a locker shut.
I walked out of the shower area with my towel wrapped around me and saw her sitting on a bench by the lockers, taking off her shoes.  She looked up startled and quickly looked away, back to her shoes.  It was quiet and I thought, OMG, what if I teased her and got a reaction – my friends would just die! I grabbed a bottle of sunblock from my bag nearby, sauntered over and stood right in front of her.  Her brown hair flung down over one eye as she struggled to lace her shoes back up, shoulders and biceps flexing .  Yes, she was strong…sweaty and strong, but I wasn't going to wrestle her.
I waited a moment, then said, "Hey, I'm Jasmine".
She looked up with a sarcastic smirk and said, "Yeah, I know who you are".
"But I don't know your name", I said with my best flirtatious smile.
"You don't need to know", she said and finished lacing up her shoes, stood to her feet and turned to grab her gym bag.
"Hey, listen", I began, putting a hand on her arm, "I know I haven't been very nice to you.  It's just that I've been a little stressed out lately.  Maybe we could start over?"
She cocked her head back and to the side, as if to say, "I'm not buying it".
"Well, actually", I said coyly, "my friends are gone and I could sure use some help putting some sunblock on my back."
"You.  Want me.  To put sunblock on your back" she said mockingly.
"I can't reach", I said and turned around, dropping my towel, "look, my back is still red from this weekend."  I reached my arms up and moved my hair over one shoulder so she could see my back.  And it was true, I had gotten a sunburn that past weekend.  But as I turned my head to look back around at her, it wasn't my back she was looking at.  I felt my face flush, but I continued my game and turned around to face her, a little shaky.  Her eyes still hadn't raised much; now she was looking at my tits.  I looked down and hadn't realized that my nipples were hard.  I looked back at her.  My breathing turned fast and shallow.  Get a hold of yourself, I thought, this is your game.  And I just stood there, dumbly, not able to say anything else, wanting to cover up, but not wanting to.  I didn't understand what was going on, only that I knew I was no longer in control of the game.
"You want me to put lotion on you," she said evenly.
I said, "Yes", in a strangely high voice.
She reached over and took the bottle of lotion from me, looking me in the eye, and squeezed a heap of it into the palm of her hand.  "Turn around."  I just stood there, unable to move.  With her other hand, she not-so-gently grabbed my waist and spun me around.  I caught myself with my hands against the row of lockers.  OMG, what was I feeling?  Fear, excitement…my whole body was alive and throbbing.  I've been with guys before, but I'd never felt this.  She leaned in close, reached her arms around in front of me and rubbed the heap of lotion between her hands.  A shudder rippled through my body.
With her breath now on my neck, she asked in a low, growly voice, "Where do you want it?"
In reply, I could only whimper.  OMG!  What is wrong with me?  Here's this boy-looking girl about to put her hands on me, and I'm not stopping her.  But if I don't say yes, then I'm really not responsible, right?
As if she could read my mind, she put her mouth against my ear and said, "Don't worry, you're gonna like it".
I could feel the soft cotton of her t-shirt against my back and the heat of her body coming through it and I could smell the dampness trapped there.  I looked down and saw her hands, loaded with lotion, coming up to my breasts.  She hesitated a moment, watching me.  I was breathing so hard, I thought I might pass out.  As she put her hands on my tits, I drew in a sharp breath, closed my eyes and arched my back, pushing against the lockers with my arms.
I heard her chuckle softly, then say, "Mmm, that's good, isn't it?"  Her hands were strong and blocky and I could feel their roughness through the lotion.  As she smoothed it around on my chest, down my stomach, and back up again, she said, "So what's this?  Does Jasmine like women?" and squeezed my nipple between her thumb and forefinger.
I let out a moan.
"Yeah, you like women, baby, don't you?", she said as she kicked my legs apart.  "And you want to get fucked by a woman, don't you?"
My mind raced.  I had no idea what she meant.  How do you get fucked by a woman?  All I knew is I was more than willing for her to show me.  I arched my back as she held me around the waist with one hand, and brought the other around to my ass, trailing it down to the inside of my thigh.  She lowered herself onto her haunches so that her head was down just below my ass.  "Oh, pretty pussy", she said, tilting her head back.  "And your juice is running down your legs, did you know that?" she said.  "I think you want me."  She squeezed my ass with one hand as she raised back up, sliding her leg firmly between mine, reaching around with the other hand and putting a lotioned finger between my lips and dragging it up along my clit.
"Please", I gasped.
"Please", she savored the word, "please is a nice word.  It looks like you're learning."  She took the hand that had been on my pussy and wrapped it in my hair, pulling my head a little roughly to the side.  Her mouth now against my other ear, she said, "That's the way to get what you want.  By being nice", tugging my head for emphasis.  "You think about that."  She pulled away, paused, then added, "And feel free to tell your friends all about this, hmm?"  Then she walked out without looking back, leaving me leaned up against the locker naked, wanting and wet.
It took me a few minutes to gather myself.  I didn't know at that time what all this meant, but I did know there was no way I was going to tell my friends about it.  I also knew that I was going to find a way to be alone with her again and that I was going to be nice.  Very nice.