Long Beach Pride is this weekend!!!! And I wanted to give everyone a little run down on where to go and what to do!
Starting tonight there is a a drag show at Hamburger Mary's!
The DreamGirls Review, Celebration of Pride
Presented By: Hamburger Mary's
740 E Broadway Long Beach CA 90802
Friday May 18th 8pm 562-436-7900
The Legendary Dreamgirls Review at Hamburger Mary's Every Friday Night presents a stunning evening of entertainment! Featuring Delta Work from RuPaul's Drag Race, hosts this star studded show at a Special 8pm Showtime. Celebrate your Pride with us. Contact Jewels at jewel_productions@yahoo.com
The 5th Annual Pink Party
Presented by: Downtown Long Beach Associates
This year to be held in the East Village
Friday May 18th 7PM, Dress in Pink and kick-off LONG BEACH PRIDE in style. For more information go to www.downtownlongbeach.org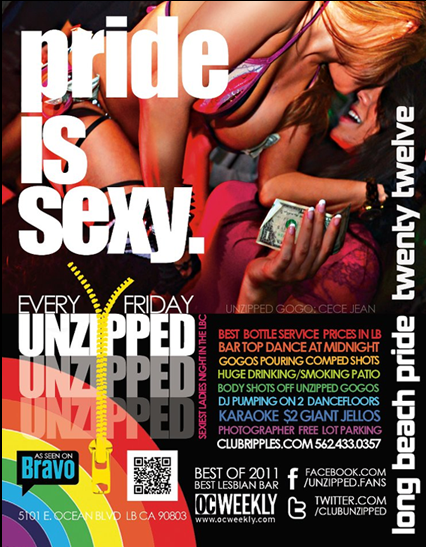 Ripples is also having UNZIPPED tonight, which is Ladies night.

So head over there to start off Pride Weekend, surrounded by hot butches and sexy femmes!
The actual PRIDE festival starts tomorrow!
The 29th annual Long Beach Lesbian & Gay Pride celebration on May 19 & 20, 2012 from 11 am – 11 pm along Shoreline Drive. CLICK HERE for a Map.
Over the past several years, the Long Beach Lesbian and Gay Pride Celebration has become one of the premiere Pride events nationwide now attracting over 80,000 participants over two days. The Festival Celebration includes seven large dance areas including a main stage which has featured musical artists such as Grammy Award Winner Jennifer Hudson, Maya, and India.Arie.
Sunday is the parade and it'll be the first one I've ever gone too!! Usually, I've gone on Saturday and have been too hung over to get up in time for the Parade the next morning. But this year, Remi and I decided to make Sunday the fun day and do it right. We will be there early Sunday morning ready for our first Pride Parade!!!! The only thing left is to figure out a DD for the day because we both plan on partaking in the festivities.

So, who's going????