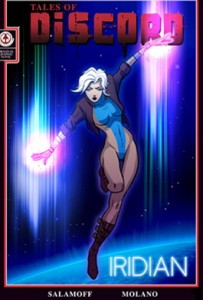 I was recently contacted by Paul J. Salamoff about a Kickstarter campaign he is working on for his graphic novel called Discord. Now why would I be telling you about some dude's graphic novel? Well because one of his main characters is a lesbian! Her name is Iridian and she is a strong female role model. 
Yay for men that actually see lesbians can be positive role models!!!! And double yay for a man that's been in the industry for over twenty years and is contributing to the positive image of lesbians in the public view. Think of all the young people that might read this and it could be the first time, they're seeing homosexuality dealt with in an empowering way!
In any case, please take a look at his campaign and if you or someone you might know want to contribute please do! Tweet it, FB it, talk about it …. let's see if we can't do our part to make sure a lesbian superhero gets her day in the sun.

I mean really ….. take a look at these! Who hasn't had coffee with a girl, liked her, wooed her and then in your mind, wanted to sweep her off her feet and be her hero??!!!  Or, maybe you dream of meeting your hero? Either way, these pictures alone make me hope his project gets funded! Maybe if Wonder Woman had been saving Sally instead of Steve when I was a little girl, it would have helped me come out YEARS earlier!!!!